Eastern Delivers MPFSV to Harvey Gulf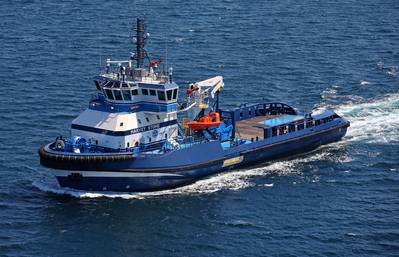 Eastern Shipbuilding Group, Inc. has delivered the M/V Harvey Stone on August 29, 2016 for Harvey Gulf International Marine, LLC of New Orleans.
The Harvey Stone, Eastern Hull 234, is a Rampage 6400 Multi-Purpose Field Support Vessel (MPFSV), designed by Robert Allan, LTD (RAL) of Vancouver, B.C.
Eastern is also completing the Harvey Sub-Sea and the Harvey Blue-Sea, two MPSVs under construction at Eastern, from a design provided by VARD Marine. The Harvey Sub-Sea is expected to deliver in 2016, after outfitting and sea trials are completed. The sister ship, Harvey Blue-Sea will follow along after. Eastern has delivered 11 vessels previously to Harvey Gulf, including Offshore Supply Vessels, Light Construction Vessels and Ocean Service Tugs.
Harvey Stone
Design Designation: RAmpage 6400 MPFSV
ESG Hull #: H234
Design: Robert Allan, LTD of Vancouver BC.
Vessel Type: Multi-Purpose Field Support Vessel (MPFSV)
Contract Date: July 16, 2014
Launch Date: December 18, 2015
Delivery Date: August 29, 2016
Vessel Dimensions: 212'-7"x 59'-1"x 25'-7'
Regulatory: ABS Oceans Service, A1, AMS, Circle E, ACCU, ACP, UWILD, FFV-2, DPS-2, Offshore Support Vessel, Notation (DSV Capable, ROV Capable), TOW, SUPPLY, HAB+ (WB), ENVIRO,
Certifications: USCG/IMO/SOLAS/MARPOL
Flag: United States of America
ABS Bollard Pull: 121 Short Tons
Total Horsepower: 9,374 BHP
Main Engines: (2) GE Marine 12V250MDC IMO II, EPA Tier 4(i) marine propulsion diesel engines 4,687HP @ 1,000 RPM each Main PTI/PTO Clutches: (2) Reintjes LAF 3414P HL Marine Gears
Hybrid System: (2) 1,000kW Induction Shaft Motor/Generators with a DC Bus via Bi-directional Variable Frequency Drives (VFD's)
Main Propulsion: (2) Schottel Model SRP3030 CPP in Nozzles
Bow Thrusters: (2) Schottel STT2, FP each powered by 600kW electric motors
Main Generators: (2) Cummins QSK19DM Tier 3, 350kW @ 1800RPM
Emergency Generator: (1) Cummins QSB7-DM Tier 3, 120kW @ 1800RPM
Deck Crane: (1) MacGregor 10 Ton Hydraulic Knuckle Boon Crane
Deck Capstans: (2) MacGregor 5 Ton Hydraulic Capstans
Deck Winches: (2) MacGregor 15 T Hydraulic Tugger/Winches
Shark Jaws & Tow Pins: (2) Triples 200 MT Shark Jaws with Tow Pins
Fwd. Anchor/
Towing Winch: (1) MacGregor Hydraulic Anchor Windlass/ Towing Winch Drum Rated Pull: 60.0 T x 0 ~ 50 m/min
Brake Holding: 100.0 T (static, 1st layer) Aft. Towing Winch: (1) Hydraulic Anchor Handling/ Towing Winch,
Drum Pull (1st layer): 150.0 T x 0~25.0 m/min
75.0 T x 0~30.0 m/min
20.0 T x 0~45.0 m/min
Drum Brake Holding: 300.0 T (static, 1st layer)