Keppel Delivers First Super A-class Rig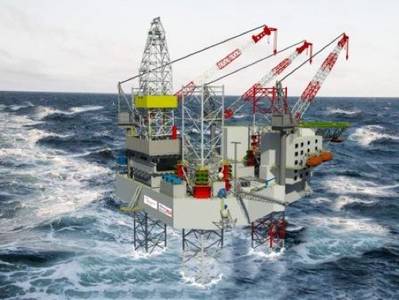 Keppel FELS delivers the harsh environment rig to Discovery Offshore, which is managed by Hercules Offshore.
Named Discovery Triumph at the delivery ceremony, the first KFELS Super A Class jackup has been delivered 46 days ahead of schedule and with a perfect safety record.
The ultra high-specification jackup rig has been designed for the harsh environmental conditions of the North Sea (UK Sector). Its enhanced leg design incorporates Keppel's proven and reliable high capacity rack and pinion jacking system which ensures that the rig is able to jack up and stand firm in a secure and safe manner even in challenging environments.

Developed by Keppel FELS' R&D arm, Offshore Technology Development (OTD), the KFELS Super A Class is an enhancement of the successful and proven KFELS A Class design. Discovery Triumph has been customised to meet the requirements of Discovery Offshore and is capable of operating in water depths of 400 feet and drilling depths of 35,000 feet.
For greater operational safety, the KFELS Super A Class is equipped with the state-of-the-art pinion overload detection, rack phase difference detection, and brake failure and overload protection devices. In addition to having strong drilling capabilities and cantilever load performance, the KFELS Super A Class has a two million pound hook load drilling system and includes a spacious deck and amenities to accommodate 150 men.

John T. Rynd, CEO of Hercules Offshore added, "With the strong demand for rigs capable of working in the North Sea, we believe the KFELS Super A Class is a value proposition rig with leading performance compared to ultra high specification jackups of its class. It provides higher variable load, better drilling capabilities, better cantilever load performance and a larger deck space. Keppel-designed rigs have a strong track record of being industry benchmarks and we are confident that Discovery Triumph will be just as successful and exceed the expectations and requirements of all our customers.