Tug Delivery Kicks Off Major Project in Russia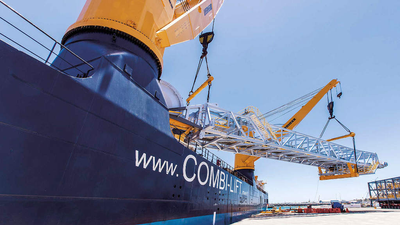 With the loading of eight custom-made Damen tugs, German heavy lift company Combi Lift reached a milestone in the Gazprom Amur Gas Processing Plant Project in Russia. This officially marks the transition period between the project's planning and implementation stages.
Combi Lift, contracted by the Linde Group as the exclusive logistics partner for oversized and heavy cargo, chose to cooperate with SAL Heavy Lift in this project. On behalf of Combi Lift, SAL's Type 161B vessel MV Annette loaded eight newly built tugs in the Waalhaven in the Port of Rotterdam, the Netherlands. The tugs will be shipped to De-Kastri, Russia to play an important role in the Gazprom Amur GPP Project. The four Amur River tugs and four Zeya River shallow draft tugs were custom-built by the Damen Shipyards Group for this project, and are designed to cope with extremely low water levels, especially in the Zeya River.
"We appreciate Damen's professionalism, good teamwork and smooth handling of all production processes. A punctual and reliable delivery of the tugs was essential for the progress and success of this important project. We are very satisfied with the great teamwork and the quality of all tugs," explains Heiko Felderhoff, CEO at Combi Lift.
All loaded and transported tugs included initial outfitting and spare parts packages. Handling this cargo and loading it directly out of the water was no problem: A customized rigging arrangement ensured safe loading procedures. The Amur River tugs, measuring 24.88 m x 11.97 m x 10.3 m and weighing 272 t each, and the Zeya River shallow draft tugs, measuring 25.9 m x 8.5 m x 8.3 m and weighing 150 t each, were stowed on deck with an overhang of up to 2,600 mm to each side.
All engineering planning, including stowage planning, rigging arrangement, lifting plans, cribbing plans and sea fastening calculations, was performed in-house in close cooperation with SAL Heavy Lift, another member of the Harren & Partner Group. Very tight stowage planning was necessary to realize the transportation of all eight tugs in one shipment. All of the tugs will sail under the Russian flag, and are certified by the Russian Maritime Register of Shipping (RMRS) and the Russian River Register (RRR).
MV Annette will now continue her journey from Rotterdam to De-Kastri via the Suez Channel and Singapore to bring the tugs to their final destination. At the same time, customized barges and side floaters will be shipped from Damen Yichang via Shanghai to De-Kastri. Once all of the assets have arrived in their final port in early May, the next stage of this exciting project can begin.