Harry S. Truman Carrier Strike Group Departs on Deployment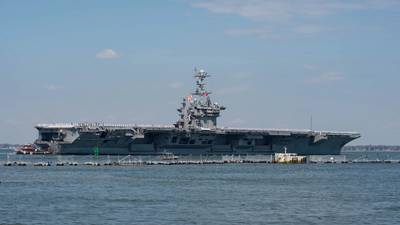 The Harry S. Truman Carrier Strike Group (HSTCSG) departed Naval Station Norfolk, April 11, for a regularly scheduled deployment.
The strike group, including aircraft carrier USS Harry S. Truman (CVN 75), Carrier Air Wing (CVW) 1, USS Normandy (CG 60), several destroyers of
Destroyer Squadron
(DESRON) 28 and German frigate FGS Hessen (F 221), is scheduled to conduct operations in the U.S. Navy's 5th and 6th Fleet areas of responsibility.
The deployment is part of an ongoing rotation of U.S. forces supporting maritime security operations in international waters around the globe. Additionally, HSTCSG units will work alongside allied and partner maritime forces, focusing on theater security cooperation efforts, which help to further regional stability.
"I'm incredibly proud of the dedication that the thousands of Sailors from the ships, squadrons and staffs of the Harry S. Truman Carrier Strike Group have shown in preparing for this deployment, and I'm honored to lead and serve with them," said Rear Adm. Gene Black, commander of HSTCSG. "These Sailors have proven themselves a highly capable team, ready to tackle any mission that our nation calls on them to perform."
For Truman, the deployment follows more than eight months of intense training and preparation that began when the ship completed its on-time periodic incremental availability in July 2017, and culminated in its Composite Training Unit Exercise (COMPTUEX) in March, which certified the ship for deployment.
"The Sailors on this team have been nothing short of spectacular," said Capt. Nicholas Dienna, Truman's commanding officer. "After making Truman the
first aircraft carrier
-- in a number of years -- to leave the shipyard on time, these men and women continued their level of excellence through one of the most complex work-up cycles ever. Their honed technical skills are what will drive this war-tested vessel to be successful at whatever may come. We are excited to deploy forward and, more importantly, we are ready!"