Derecktor Launches Hybrid Cat for Shortsea Venture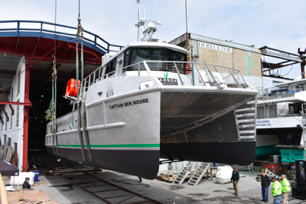 The Captain Ben Moore entered the water with a quiet splash, a fitting launch for a vessel conceived and built to run silently on clean, efficient hybrid power.
The third in a series of 65-foot aluminum catamarans built by Derecktor and powered by BAE Systems hybrid technology, the vessel was built for Harbor Harvest, a Norwalk, CT, based company set on changing the way fresh produce and foods are transported around metro areas. Once in service, the Captain Ben Moore will carry goods from family farms and small producers in the region across Long Island Sound, relieving traffic congestion and reducing emissions.
The vessel has a top speed of 15 knots and boasts 300 square feet of open cargo space, 100 square feet of covered space and 140 square feet of walk-in refrigerated space. Total capacity is an impressive 12,000 pounds of cargo or the equivalent of three to five full truckloads, according to Harbor Harvest founder Bob Kunkel. Kunkel, a shortsea shipping pioneer and subject matter expert, aims to transform and 'green up' the local freight model.
As the third hybrid built by Derecktor featuring a lithium battery system at the heart of the power plant, the Captain Ben Moore further establishes Derecktor as the U.S. leader in commercial hybrid vessel building. The shipyard, long known for innovation in construction of yachts, commercial and military craft, has a commitment to the development of sustainable solutions for marine transport.