Design Profile: Glosten's SA-100 Methanol-hybrid Tug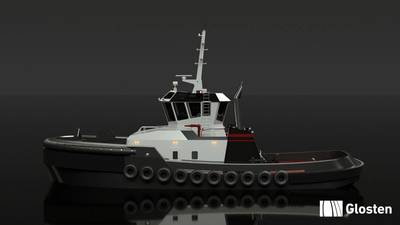 The commercial maritime industry is seeking solutions to improve efficiency and reduce emissions, and a wide range of new solutions are coming to market to answer the call. Among these is a new design for a methanol-hybrid tug from naval architecture and marine engineering firm Glosten. The SA-100, developed in collaboration with systems integrator ABB, is a high-powered tug with 90-ton bollard pull that's "intended to give operators a means to improve environmental performance, but in every other respect, continue to operate as they do normally," said Peter Soles, marine operations and business development, Glosten.
Methanol, which is commercially available globally, is attractive because it is cleaner burning and offers lower carbon pathways for companies to meet their decarbonization goals, Soles said. Compared to marine diesel or marine gasoil, CO2 reductions of 2-15% may be achievable for gray methanol produced from natural gas, or as much a 70-90% for green methanol produced from renewable resources, he explained, adding that SOx, NOx, and particulate matter (PM) emissions reductions can exceed 99%, 60% and 95%, respectively.
And that's not all. "Methanol has a long list of advantages, not just over some of the other alternative fuels, but over diesel as well," Soles said. "It remains a liquid fuel at ambient temps; it can be injected into medium and high-speed diesel cycle engines with relatively few modifications; and, it can be stored in hull-integrated tanks.
"Methanol is also a proven marine fuel that has been in use for over a decade and has a long history of safe handling. We are well past the technical feasibility stage. Methanol is now 'commercially advanced'. The engine technology is available and steadily progressing, the rate of adoption among vessel operators is increasing rapidly, and a regulatory framework for methanol-fueled vessels is already in place."
While an engine running on methanol can be expected to perform similarly to one using diesel, with comparable power output and response times, Soles said a primary drawback is less range or endurance because methanol has roughly half the energy density of diesel. "This doesn't mean that the tug is less powerful. It just means that more fuel has to be injected, and at higher pressures, than when using diesel. [A dedicated harbor assist tug] will likely need to be refueled more frequently in comparison to present day operations."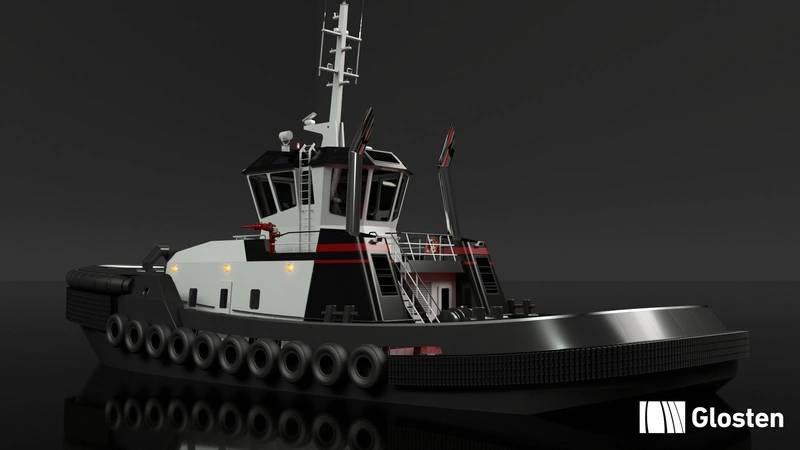 (Image: Glosten)
From a design standpoint, Soles said the greatest challenges for developing this particular tug are related to onboard space limitations. "In addition to batteries, a series-hybrid tug like this requires a lot of electrical switchgear," he explained. "Normally, that wouldn't be too big of a deal on a tug of this size; but when you combine that with having to develop a workable methanol tank arrangement, including cofferdams and required access points, and all the while trying to minimize gross register tonnage (GRT), it becomes a fairly tricky balancing act."
But the specific challenges of methanol fuel are manageable, Soles said. "There are some special requirements with respect to the fuel delivery system, as well as hazardous zones that you have to think carefully about. What's more difficult, though, is the tank arrangement. Going into any methanol tug concept, you're already facing the issue of incorporating a fuel that requires roughly twice as much space as diesel on a unit of energy basis. Then, on top of that, you've got the requirement for 600mm cofferdams for tank areas above the waterline and wherever tanks are adjacent to any occupied spaces. In comparison to what we all know and are familiar with—i.e. diesel powered tugs—it does feel a bit like having two new factors working against you. It's not impossible to work out; but it can be pretty limiting on a relatively small vessel like a harbor tug."
Another challenge for the SA-100—and really for all hybrid alternative fueled tugs—is greater upfront costs, which Soles sees as a key factor restricting more widespread adoption across the U.S. "But, for operators that are committed to making the transition to alternative propulsion, a methanol-hybrid vessel like SA-100 can be constructed for significantly less than a gas-powered tug that runs on liquefied natural gas (LNG), hydrogen or ammonia – and that's mainly because methanol fuel remains in a liquid state at ambient temperatures and can be stored in hull-integrated tanks. It also runs well in diesel-cycle engines with relatively minor modifications and requires fewer ancillary systems than gas-powered tugs."
The story can be entirely different on the operational side of the ledger, where hybrid and alternative fueled tugs aren't necessarily more expensive, and sometimes even less expensive when smartly designed. Soles said having batteries on board the SA-100 goes a long way to help drive down operational costs. "Using batteries for 'boost' power allows the operator to select smaller main engine-gensets that are much better suited for the actual operational demands of routine assist jobs. Sizing engines for full bollard doesn't just mean buying larger, more expensive engines. It means the engines will consume more fuel than necessary; and because they're running very lightly loaded most of the time, it means they're not operating at their design efficiency point, resulting in more frequent maintenance," Soles said. "The use of batteries in SA-100 also enables the tug to run in fully electric mode when not actively working, which means the engines aren't running at all. This keeps engine hours to a minimum and increases the amount of time one can go between in-frame overhauls."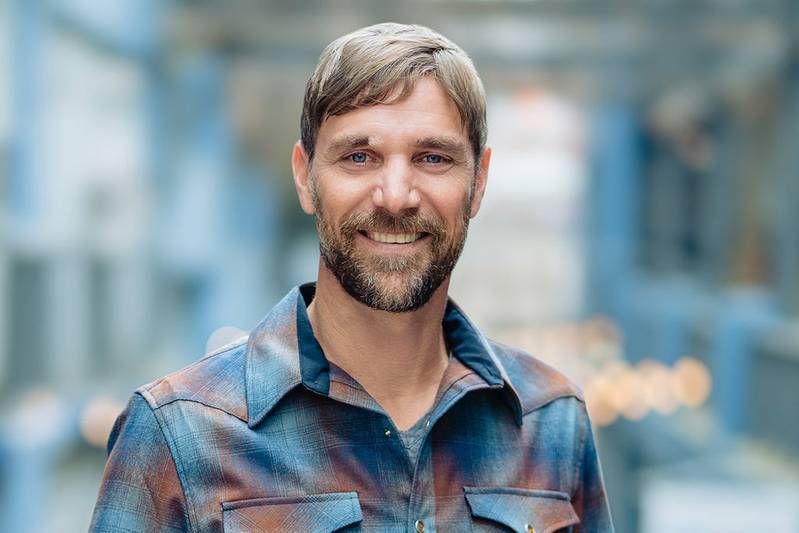 The SA-100 is "intended to give operators a means to improve environmental performance, but in every other respect, continue to operate as they do normally," said Peter Soles, marine operations and business development, Glosten.
Another way the designer worked to keep operational costs to a minimum on SA-100 was by developing the structural arrangement for low U.S. GRT. "Given that operators can expect higher capital costs with hybrid and alternative fuel tugs, they will be looking for other ways to control total cost of ownerships (TCO) and, ultimately, keep their rates competitive," Soles said. "The best way to do that is to manage labor costs - and USCG manning requirements are directly linked with GRT."
While the future remains unwritten, a number of shifting factors could help the business case for cleaner burning vessels down the line. The marine industry is "going through a time of profound change and uncertainty", Soles pointed out. "With rapidly evolving federal and state regulations, changing market forces and changing perceptions around corporate environmental responsibility, what assurances do operators have that investing in a newbuilt diesel-mechanical tug won't ultimately cost them more in the long run?"
Overall, the market reaction to the SA-100 has been "overwhelmingly positive", Soles said. "Most operators have already done a fair amount of independent research into alternative fuels and understand many of the factors that make methanol so appealing as a diesel replacement."
Figuring out the supply chain is another issue altogether. "Operators have questions about methanol availability, where they can source it, and whether or not the infrastructure is in place for bunkering or refueling by tank truck. These are all fair questions, and I believe it's the biggest hurdle to get over before we see methanol adopted by more than just a few forward-thinking operators," Soles said. "Fortunately, SA-100, as designed, can be operated on diesel indefinitely and easily retrofitted for methanol whenever operators feel assured it's a direction they want to go in."
The SA-100 is Glosten's first methanol fueled vessel concept, but the firm is already working on other projects that incorporate methanol fuel, Soles said. "There will certainly be more methanol fueled vessel concepts and projects to come."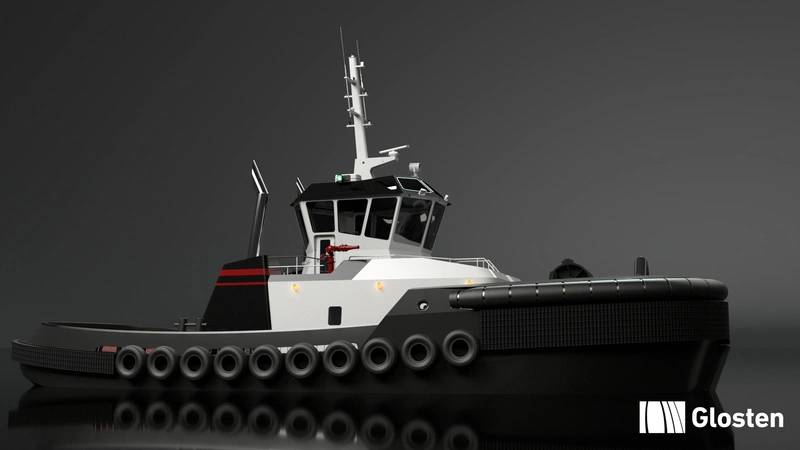 (Image: Glosten)