Designing to the Limit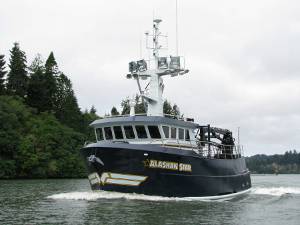 Just as America's Cup racers spent decades tuning the near perfect design formula of the 12-meter boats required by that event, so to have fishermen fine tuned the 58-ft Alaskan Limit seiner. The 58-ft limit was implemented in an early move to limit the size of vessels in the Alaskan salmon fishery. The boats are now used in many fisheries including halibut long lining and crab pot fisheries. The latest incarnation resulting from decades of evolution for this highly adaptable vessel underwent sea trials this month at Reedsport, Ore.
Twenty years ago, steel limit seiners typically had a 22-ft beam. The new Alaskan Star, as designed by Fred Wahl Marine Construction has a 26-ft beam on the same regulated length. Below water the deep hull has a hard chine with rolling chocks carrying the beam well below the surface. A bulbous bow improves hull performance.
The volume of the hull results in some impressive capacities. These include two 330-cubic-foot frozen bait holds and two fish holds of 2,210 and 1,120 cu. ft. respectively. The holds are fiberglassed and fitted with a 40 HP RSW system. Tankage is provided for 9,450 gallons of fuel, 338-gallons of
lube oil
and 1,735 gallons of fresh water.
For propulsion, a single Tier II compliant Cummins QSK19-M diesel delivers 660 HP to the 4-blade bronze propeller through a ZF-2450 gear with 5.5:1 reduction.
Accommodation is provided in the raised fo'sle with one four-berth and one two-berth staterooms. Stainless steel appliances, including a garbage compactor, and backsplash enhance the roomy galley and mess areas. Stainless steel is also used extensively in exterior wear areas such as the tie rail, ladder rungs and exhaust tips.
For long-lining there is an aluminum shelter deck with a stainless bait chopper and aluminum table mounted at the stern of the 32 by 26-foot aft deck. The large deck also supports a hydraulic crab davit with a hydraulic ram on the starboard side. A picking boom with hydraulic winch is mounted on deck. Mounted on the mast are an impressive array of lights including four 1500-watt sodium lights and six 1000-watt quartz lights. That is a lot of candlepower.
The detail and hull form may differ from that of an America's Cup boat but the adaptation of vessel design to meet the required function is no less precise.