Wärtsilä Debuts 4 Feeder Ship Designs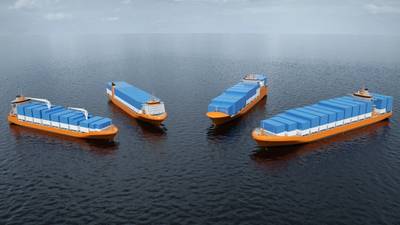 Wärtsilä launched a series of four new container feeder vessel designs at this year's Nor-Shipping exhibition being held in Oslo from June 2 to 5. The designs are based upon achieving optimal fuel efficiency, while being compliant with all known current and future environmental regulations.
The four ship designs (the WSD80-1500, WSD80-2400, WSD80-4000 and WSD84-2400) feature low fuel consumption. Each design is available in three versions; 'conventional' using HFO as fuel, 'environmental' using HFO with exhaust cleaning scrubber systems, and 'clean' with dual-fuel capability and running mainly on liquefied natural gas (LNG).
Wärtsilä said its technology and experience in the development of dual-fuel marine engines and LNG fuel supply systems is an enabler of ship designs that efficiently anticipate the global adoption of LNG as a marine fuel. Fuel flexibility is, therefore, a main feature of these latest Wärtsilä designs along with fuel efficiency, cargo capacity, systems redundancy and the lowest possible levels of exhaust emissions. Since container feeder vessels operate largely within existing or anticipated ECA (Emissions Control Areas) or SECA (Sulphur Emissions Control Areas), environmentally compliant designs are relevant.
"Wärtsilä is a global supplier of efficient, reliable, and environmentally sustainable ship design solutions for the merchant shipping sector. Our unique expertise, knowledge, and worldwide presence are essential factors in turning the customer's vision into reality, thereby maximizing their profits and asset values," said Riku-Pekka Hägg, Vice President, Wärtsilä Ship Design.