NATO Missile Defence Beefed Up: US Destroyer Arrives Spain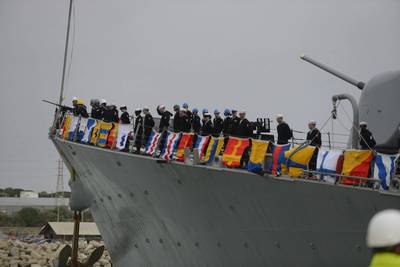 The stationing of four Arleigh Burke-class guided-missile destroyer at Rota represents a national contribution by the US and Spain to NATO missile defence, enhancing the security of the European region, the Mediterranean Basin and the Atlantic Ocean. The first of the four, USS Donald Cook (DDG 75), has arrived in Rota, Spain from Norfolk Navy Base.

Secretary of the Navy Ray Mabus said: "Permanently forward deploying four ships in Rota will enable us to be in the right place, not just at the right time, but all the time."
 In 2012, he announced the BMD-capable destroyers Donald Cook, USS Ross (DDG 71), and USS Porter (DDG 78) from Norfolk, Va., and USS Carney (DDG 64) from Mayport, Fla. would be stationed in Rota.

These multi-mission ships will perform a myriad of tasks, including NATO missile defense, the full spectrum of maritime security operations, bi-lateral and multi-lateral training exercises, and NATO operations and deployments. Ross will join Donald Cook in Rota later this year, and Carney and Porter will arrive in 2015.


"The Donald Cook team is excited and honored to be the first destroyer stationed in Rota, Spain," said Cmdr. Scott A. Jones, commanding officer, Donald Cook. "We greatly appreciate all the hard work from Naval Station Rota, Destroyer Squadron 60, Commander Naval Surface Force Atlantic, and Spain; they have all worked tremendously hard to ensure the ship, Sailors, and our Families are well supported as we transition into the Rota Community."