DaccR for Development, Comparison of Fast Boats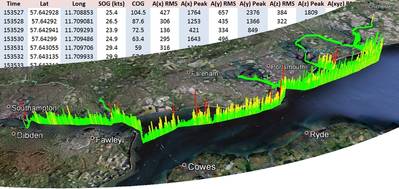 New product intended to meet requirements of EU Legislation on Whole Body Vibration (WBV).
Product Background
The Dyena Acceleration Recorder came about from listening to delegates at successive conferences where the professional industry discussed the future problems of meeting the EU Legislation on Whole Body Vibration (WBV) that is now in effect. Whilst there were plenty of people investigating wave impact effects on boats and crews, using increasingly sophisticated data logging equipment, no one had produced a system suitable for measuring the daily exposure to WBV that presented the data in an understandable way to the professional operator.

From the outset, The Dyena Acceleration Recorder was designed to be a "Health Monitoring System" and not a scientific data logger. Most operators don't have a resident scientist or engineer with spare time to go through the daily data collected from the previously available systems, and they are less likely to be happy to pay the price to install these systems on every vehicle in their fleet.

In a recent seminar I demonstrated that it would take up to 30 minutes to calculate the daily vibration exposure as required by the EU Legislation using affordable "state of the art" systems. The Dyena Acceleration Recorder provides this important information automatically and is a radical step forward in crew safety monitoring.
Dyena Information
Dyena was founded as a company to allow the development and marketing of new products. Committed to using intelligent design to find simple and effective solutions, we have ongoing projects in various disciplines, including marine products and health monitoring.

The Dyena Acceleration Recorder is the latest product to be released. The first of the next generation of Whole Body Vibration monitoring systems, designed specifically as a solution for boats and vehicles that are subject to the latest European Directive and UK legislation on vibration exposure in the workplace.