Two New Tugs for Abu Dhabi Ports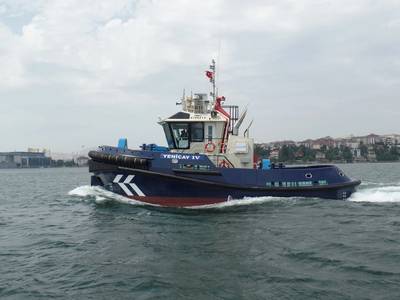 Abu Dhabi Port Company (ADPC) has purchased two newly built tugs from Sanmar shipyards of Turkey.
The new Yenicay Class tugs, based on the
same Robert Allan Ltd R
ascal 1800 basic design-which are equipped with the latest technology and have a bollard pull power of 30 metric tons, will service both Mussafah Port and
Zayed Port
and complement Abu Dhabi Port's existing advanced fleet. Management of these tugs falls under SAFEEN, ADPC's marine services division.
Designated Yenicay VI and VII the first unit will be heading for its new home with SAFEEN within a month, while the second will be entering service in early 2018. Prompt delivery was key to SAFEEN awarding this work alongside Sanmar's responsiveness and track record with SAFEEN being a key enabler, according to the builder. SAFEEN already operates one similar Sanmar built Yenicay Class tug in its fleet, delivered in April 2016.
Yenicay VI and VII are ASD configuration with dimensions measuring 18.7m x 9.2m and utilize Caterpillar C32 main engines each developing 969kW at 1,800 rev/min. These drive Veth VZ-900 azimuthing stern thrusters. This arrangement gives a bollard pull of 30 metric tons and a speed ahead of around 12 knots.
The Yenicay class of compact tugs has been specifically designed to provide high performance line and ship handing capabilities typical in smaller ports and harbors in the region. In addition, with upgraded seawater cooling and HVAC they will ensure reliability and crew comfort during the extremely high ambient air and seawater conditions faced during summer months in the region.