Resolve Maritime Academy Welcomes Distinguished Visitor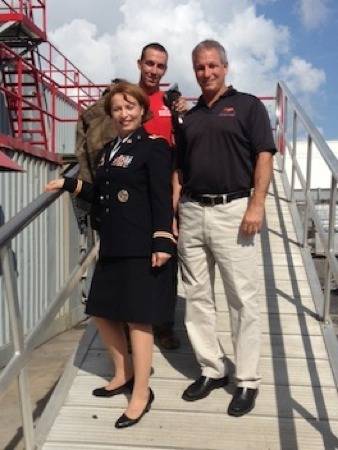 Lieutenant Colonel Roque, Director, Region South, of the Office of the Chairman of the Joint Chiefs of Staff Warrior and Family Support visits Resolve Marine Group and tours Resolve Maritime Academy.

LTC Roque's visit included a tour of the Resolve Maritime Academy simulators and fire school. The purpose of the tour was for her to acquaint herself with industry-related capabilities and to meet the many veterans employed by Resolve.

Resolve adds that LTC Roque was in Fort Lauderdale to attend a Mission United Advisory Committee meeting to understand the core services provided to Veterans through Mission United and to identify areas where she can assist the organization to be more effective in reaching out to Veterans.

Pictured: LTC Roque (left) at Resolve Maritime Academy's Fire Simulator, The Gray Manatee.