BMT ARGOSS Increases PC REMBRANDT V5 Distribution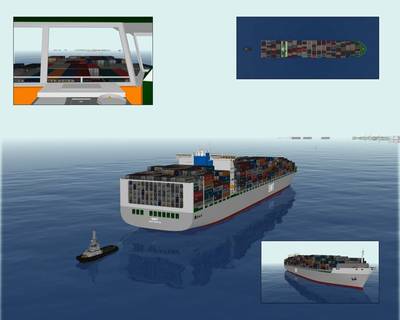 BMT ARGOSS, a subsidiary of BMT Group Ltd, has announced that pilot organisations around the world including Peel Ports Medway in the UK and Kiel Canal Pilots in Germany, are investing in the latest version of its marine manoeuvring simulator, PC REMBRANDT V5, to further enhance port navigation risk assessment and familiarisation training capabilities.
In order to provide greater accuracy to the simulation experience, BMT ARGOSS has enhanced the tidal current and wind settings to accommodate the unique features of a given port which can affect current flow and wind speed. The latest version of PC REMBRANDT can also provide Client Server, a multi-user mode which enables multiple vessels to operate in a single operational scenario, each with independent human control.
This is valuable for a wide range of scenarios including training with tugs as it is possible to simulate the type of issues that can be experienced if commands are not delivered clearly and concisely. It is also anticipated that PC REMBRANDT will be developed to provide a range of multi-user scenarios with traffic to reflect operating conditions as ports around the world become busier. Client Server enables a safe training environment where operating limits can be defined and tested.
Operating directly from S57 ENC chart data the PC REMBRANDT system is a highly accurate, capable and flexible alternative to Full Mission Bridge (FMB) marine simulators, allowing the user to load any port database with relative ease and at a cost effective price. PC REMBRANDT utilises highly accurate ship models that include over 750 parameters, ensuring that the user experiences identical ship to ship interaction, ship to bank interaction, squat and shallow water effects as the real ship would in the same conditions. Simulations can be replayed in video format with track plots and data information printed or saved electronically, providing a very structured training regime.

David Newbury, Marine Manager at Peel Ports Medway comments: "PC REMBRANDT is now an integral part of the Risk Assessment and Training regime for Medway Pilots. The equipment gives us the flexibility to cover a large pilotage area and simulate each and every terminal and berth. By applying our own local knowledge to the system, we can further enhance the performance and add real value to Pilot Training. The flexibility and speed of PC REMBRANDT allows us to undertake this work efficiently with colleagues and customers."
Capt. André Brueck, Senior Training Pilot, Kiel Canal Pilots I (Brunsbuettel) explains: "BMT has been able to provide us with one of the most advanced and highly accurate bridge simulation systems which integrates RADAR and AIS, KWANT Controls Overhead Panels, Portable Pilot Unit Interface and a View Point Console. As well as playing an integral part in our Quality Management System, the system is in frequent use from basic training of Apprentice Pilots to advanced education for Senior Pilots. The software capabilities combined with the ability to conduct many simulation runs per day offers us a cost effective, flexible solution and allows for unlimited training sessions for a wide range of considered maneuvers to be undertaken. We are also able to use the system to produce accurate and reliable statements during analysis and investigation of safety related incidents such as accidents or near miss occurrences."
Ian Fraser, Director at BMT ARGOSS comments:" We have established a wide network of users including Pilots, port consultants, ship crews, installation contractors and legal representatives over some 20 years of product development, all of whom have played a critical role in the development of the software, especially those who really push the software to its limits such as Peel Ports Medway and Kiel Canal Pilots. Developing a pioneering solution which is built upon R&D, user experience and good old fashioned engineering skills allows our highly skilled team of experts to develop new innovative software services and applications. This in turn, provides the users with a solution that is fit for purpose and enables the expansion of safe and efficient vessel operations."