Divers Enable Operators to Avoid Unscheduled Dry-Dockings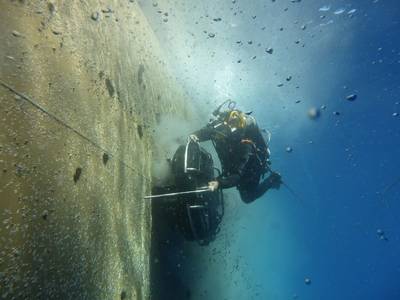 Vessels' repair needs do not always match with planned maintenance schedules. With specialist underwater teams, no vessel is far from fast, high-quality repair and refurbishment that enable operators to avoid the potential loss of income related to dry-docking.
Technology group Wärtsilä offers marine service and maintenance, regardless of the vessel's location. Maintenance and repair services performed by specialist divers add to Wärtsilä's comprehensive service offering and allow for operators to minimize or eliminate vessel downtime.
Late last year, Wärtsilä announced its acquisition of Trident B.V., the worldwide provider of commercial diving services. With the acquisition, Wärtsilä became the first Original Equipment Manufacturer with a global underwater services footprint.
Wärtsilä's underwater service offering includes underwater repair, overhaul of propulsion systems, and regular maintenance such as hull cleaning and propeller polishing, as well as welding repairs and cofferdam repair. The retrofitting of some components of exhaust gas cleaning system and even complex overhauls can be carried out underwater, changing the nature of vessel repairs and maintenance.
Wärtsilä's specialist underwater teams, based in the Netherlands, Italy and Canary Islands can be dispatched in a matter of hours, thus enabling fast-response repairs as well as inspections, refurbishment and equipment installation or replacement for vessels around the globe.