Wärtsilä Donates Engine in S. Africa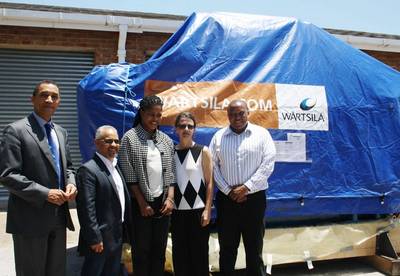 As part of Wärtsilä's initiative to support and stimulate the maritime economy in South Africa, the company has donated a Wärtsilä 20 engine to the Nelson Mandela Metropolitan University (NMMU). Part of a long-term sponsoring partnership with NMMU and the South African International Maritime Institute (SAIMI), the engine will be used to facilitate teaching within the University's School of Engineering.
The official handover took place earlier in connection to the African Maritime Domain (AMD) Conference in Port Elizabeth in November but the actual delivery of the 11-ton engine has now been completed. The engine will give students the opportunity to have hands-on experience of the latest developments in ship engine design and technology. At the earlier handover ceremony, Professor Dalenca Pottas of NMMU's School of Engineering commented, "NMMU's business strategy in the next decade and beyond is to develop our marine education and training, as well as our research and engagement programs, and to significantly upscale our strategic support for this crucial sector."
"We are proud and pleased to be donating this engine, an eight-cylinder in-line Wärtsilä 20, to NMMU, and to supporting its marine sector development strategy. By making this engine available as the centerpiece of the school's training facility we confirm our commitment to expanding the knowledge base of future maritime specialists, which in turn will benefit the industry as a whole,"
said Aaron Bresnahan
, Vice President, Sales, Wärtsilä Ship Power.
NMMU, which plays a role in providing the human capacity necessary for growing the continent's blue economy by offering maritime qualifications , is located between the major
South African ports
of Durban and Cape Town.
The Wärtsilä 20 engine series for smaller vessels or for generating set applications can switch from MDO to HFO and vice versa without power interruption at any engine operation load. The Wärtsilä 20 engine is fully compliant with the IMO Tier II exhaust emissions regulations set out in Annex VI of the MARPOL 73/78 convention. More than 4,000 Wärtsilä 20 engines have been delivered since its introduction to the market in the early 1990s.