Dream Cruises Welcomes Third Ship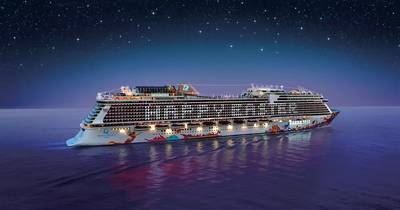 Dream Cruises, a luxury cruise line owned by Genting and based in China welcome "Explorer Dream" in Shanghai as the third ship in its Dream Cruises fleet.

Dream Cruises held the christening ceremony for the former SuperStar Virgo at Shanghai Wusongkou International Cruise Terminal. Chinese designer Grace Chen served as the godmother and presented a fashion show with 18 models showcasing her 'Voyage' collection, walking a runway on the Palace Pool Deck.

"Formerly the "SuperStar Virgo" of sister brand Star Cruises, "Explorer Dream" will undergo a US 30 million dollar transformation in March 2019 that will incorporate exquisite new facilities including The Palace, Dream Cruises' signature, luxury private enclave featuring 50 suites and butler service," said a press release.

"Dream Cruises will be extending its brand recognition to 300 million Chinese in Shanghai and Tianjin/Beijing next summer as well as offering cruises in Australia and New Zealand to its Asian-sourced passengers during winter 2019 – the first time Dream Cruises will be sailing outside Asia," said Tan Sri Lim Kok Thay, Executive Chairman of Genting Hong Kong.

"Explorer Dream will offer another option for our Asia based guests to expand their travel horizons with new rail/cruise and fly/cruise opportunities to see the world," Tan Sri added.

Explorer Dream will strengthen the Dream Cruises' brand in North China with homeports in Shanghai and Tianjin during Spring/Summer 2019 with a selection of voyages of various durations from Shanghai or Tianjin to Japan, Russia, Hong Kong and the Philippines.

Taking the first step to evolve Dream Cruises into "Asia's Global Cruise Line" by sailing outside Asian waters, in Autumn/Winter of 2019, Explorer Dream will homeport in Sydney and Auckland where she will embark on 21 seven-night weekly itineraries.

Around 13 million visitors currently visit Australia and New Zealand annually with about 5 million of this number from Asia. Explorer Dream will offer Asian guests an alternative travel option for visiting multiple cities and attractions without having to check in and out of hotels or transiting between airports as commonly associated with a land vacation.