Dredge Capsizes in the Mississippi River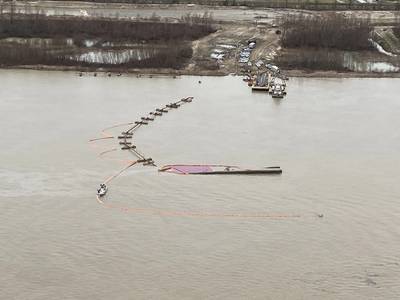 Responders are working to minimize environmental damages from a cutter suction dredge that capsized in the Mississippi River near Meraux, La. on Monday.
The U.S. Coast Guard said its watchstanders at Sector New Orleans were notified at 12:50 a.m. that the dredging vessel W.B. Wood capsized in the vicinity of mile marker (MM) 85. The two people on board were rescued by the crew of a nearby towing vessel, Omaha.
Coast Guard aerial observers confirmed sheening from the incident location down to MM 64, which is expected to dissipate naturally. The Coast Guard said it is investigating all correlating pollution reports to ensure no additional areas have been impacted.
Coast Guard Sector New Orleans Incident Management Division is coordinating with the dredge's owner, Avondale, La.-based Wood Resources, in overseeing the pollution response and plans to salvage the capsized vessel.
The responding oil spill response organization, Louisiana-based Environmental Safety & Health Consulting Services (ES&H), has three response boats on scene, and it is conducting skimming operations. So far, more than 3,360 gallons of oily water mixture have been recovered. ES&H deployed 940-feet of hard and soft boom and contained the discharge.
The Coast Guard had closed the waterway from MM 81 to MM 86 for 8 hours but has since reopened the waterway with restrictions while recovery efforts are ongoing.
The cause of the incident is under investigation.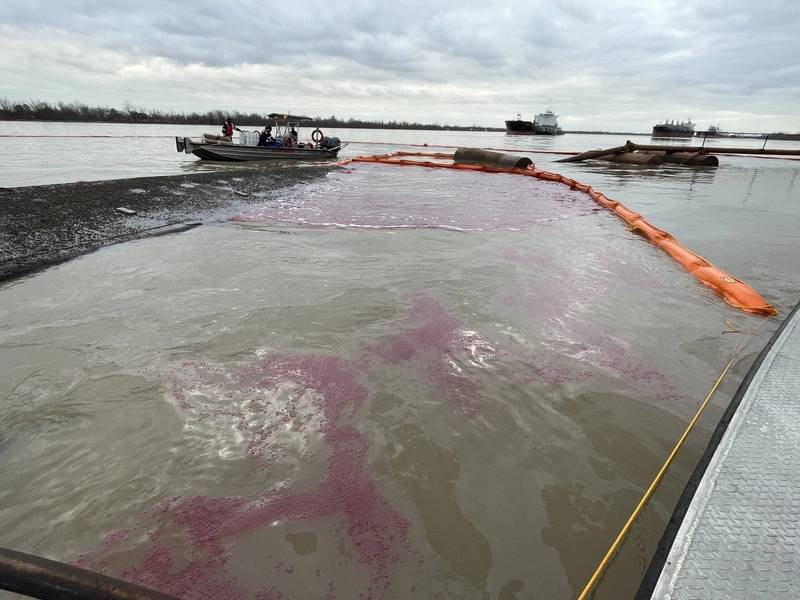 Nine hundred forty feet of the boom being placed around the capsized cutter suction dredge W.B. Wood to contain its fuel discharge on the Mississippi River near Meraux, La. (U.S. Coast Guard photo by Sector New Orleans)