GLDD Dredging Delivers Strong Q3 2013 Results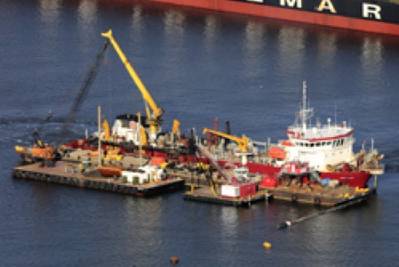 Great Lakes Dredge and Dock Corp. reports third quarter 2013 results. Dredging delivers a strong quarter with the backlog at a record high of $606-Million. The company says it is evaluating strategic alternatives for its demolition business.
Q3 Company highlights in total
Revenue increased 22.4% to $198.8 million in the third quarter of 2013 compared to the third quarter of 2012, driven by the increase in coastal protection revenue and a joint Terra and Rivers & lakes remediation project.
Gross profit margin rose to 11.2% from 4.8% in the third quarter of 2012 driven by an increase in revenue and higher contract margin and strong remediation results at Terra. The prior year quarter was negatively impacted by adjustments to reduce revenue and margin in the demolition business related to pending change orders.
General & Administrative expenses increased $7.6 million year over year. We continue to incur additional legal and consulting costs related to the revenue recognition issues discovered at year end. Terra G&A expense accounts for $2.8 million of the increase. Finally, we incurred an increase of $3.6 million in payroll and benefits costs for select headcount additions, mainly to our legal and financial teams, while the prior year reflected a reduction in accrued incentive pay.
Operating income was $6.2 million, $10.0 million better than the prior year quarter.This increase was driven by improved operating results, partially offset by an increase in G&A expense. In addition, during the quarter the Company recorded a $3.2 million gain on the sale of an older, underutilized dredge in the Middle East.
Net income was $1.4 million in the quarter versus a Net loss of $5.3 million in the prior year quarter.
Adjusted EBITDA was $19.6 million, a 150% increase from the prior year quarter as a result of the improvement in current quarter results compared to prior year.
Total contracted backlog at quarter end was $606 million. Excluded from this number is $94.6 million in domestic dredging low bids and options pending award.
William Steckel, Chief Financial Officer stated, "As expected, dredging activity in the third quarter picked up after a slow second quarter. Our dredging business continues to book high levels of work, and we are executing well in that segment.