Vigor Shipyards Awarded USS Momsen Drydocking Contract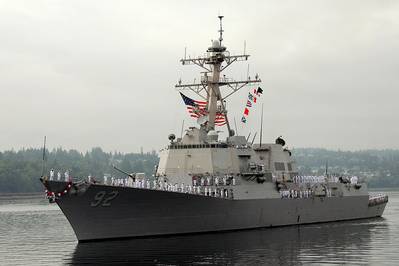 The US Department of Defense, Navy, inform that Vigor Shipyards Inc., Seattle, Wash., is being awarded a $30,703,417 cost-plus-incentive-fee, cost-plus-award-fee contract to definitize a previously awarded undefinitized contract action (N00024-11-C-4401) for repair and alteration of naval assets.
The DoD explain that this body of work is being awarded under an existing five-year contract for planning and execution of repair and alteration to surface ships while in drydock.

The USS Momsen (DDG 92) will be undergoing a docking selected restricted availability which is the opportunity in the ship's life cycle to primarily conduct repair and alteration to systems and hull not available when the ship is waterborne. Work will be performed in Seattle, Wash., and is expected to be completed by October 2014.

DoD add that Fiscal 2014 operations and maintenance, Navy funding in the amount of $8,405,188 will be obligated at time of award and will not expire at the end of the current fiscal year. The Puget Sound Naval Shipyard and Intermediate Maintenance Facility, Bremerton, Wash., is the contracting activity.