Drydocks World Presents HSE Awards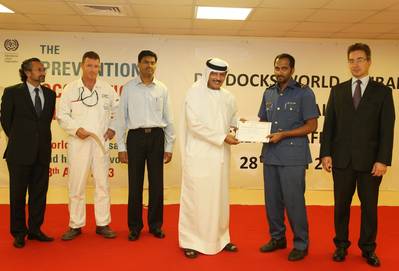 Drydocks World, one of the world's largest yards, present Annual Awards for Excellence in Health, Safety & Environment.
The event was held to coincide with the World Safety & Health Day on 28, April 2013, initiated by the International Labour Organization (ILO). The awards, which are presented annually, celebrate the success of various departments and teams employed in the shipyard, including clients, contractors, service providers & business partners who have made significant contributions towards achieving Drydocks World's health, safety and environmental goal of ZERO HARM to people and the environment.
"This priority & our all encompassing ZERO HARM approach is also clearly demonstrated by the fact that we have no major environmental incidents during the last year, worked 29,768,751 million man-hours and have had no work related fatalities for a number of years and there has been no spill of any sort of liquid to the sea. Our vision of sustainability ensures that we undertake our work in a safe and environmentally friendly manner by employing the latest energy saving technology, operationally efficient procedures and recycling 75% of all solid waste generated," said Khamis Juma Buamim, Chairman of Drydocks World and Maritime World.

The ILO theme for 2013 is the prevention of Occupational Diseases Worldwide. Occupational diseases continue to be the leading cause of work-related deaths. The ILO estimates, out of 2.34 million occupational fatalities every year, only 321,000 are due to accidents. The remaining 2.02 million deaths are caused by various types of work-related diseases, which correspond to a daily average of more than 5,500 deaths. The inadequate prevention of occupational diseases has profound negative effects not only on workers and their families but also on society at large due to the tremendous costs that it generates. Prevention is more effective and less costly than treatment and rehabilitation.

Khamis Juma Buamim added: "This year's theme is very relevant to our business and to the focus we place on the occupational health and safety. Our Medical Centre is undertaking some exemplary & industry leading work in this area in collaboration with third parties including Imperial College, London."

"We plan to mark each 28th April from this year onward as the Drydocks World Health and Safety Day to reassert our commitment to HSE as our topmost priority."