Dubai Trade Award for WSS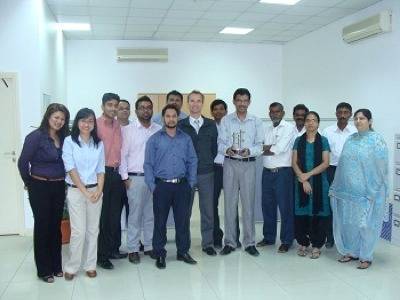 Wilhelmsen Ships Service (WSS) awarded 'Freight Forwarder of the Year' prize at the Dubai Trade awards ceremony.
The awards recognise the achievements of the region's most active online performers and were attended by representatives from DP World and Dubai Trade as well as key dignitaries from the government and private sector and executives from manufacturing and trading companies and supply chain service providers.

Accepting the award, Sondre Ajer, General Manager UAE said: "We're extremely proud to receive this accolade, and our sincere thanks go to the Dubai Government for their continuous efforts to constantly improve efficiencies within trade and logistics."

Standing by the side of Mr Ajer, Flemming Andersen, Area Logistics Manager Middle East said: "With a month-on-month compounded growth of 54% for online transactions, the Dubai Fleet & Logistics team have demonstrated great interest and considerable expertise in utilising the online tools made available by the Dubai government entities."

Wilhelmsen Ships Service AS is part of Wilhelmsen Maritime Services, a Wilh. Wilhelmsen Group Company. It has the world's largest maritime services network, with 4,500 marine professionals servicing 2,400 ports in 125 countries.