Irish Ferries Launches Dublin-Cherbourg Ferry Route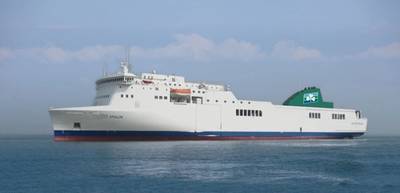 A new direct passenger car ferry service linking Dublin with the French port of Cherbourg is being introduced by Irish Ferries with the first sailing departing from Dublin on January 18.

The once-weekly, year-round service – which the company's head of passenger sales Dermot Merrigan said "will bring the European motorways directly into the heart of our capital city" – will depart from Dublin every Saturday (15.30) arriving into Cherbourg next morning (11.30). Return sailings will depart Cherbourg each Sunday (17.00) with early arrival back in Dublin on Monday morning (11.00).

The new route will be operated by the passenger car and freight ferry vessel mv Epsilon which Irish Ferries has recently secured under a charter arrangement.

On its new Dublin to Cherbourg route, Irish Ferries will provide a third route option, augmenting the company's long-established services from Rosslare to Cherbourg and Rosslare to Roscoff. Sure to be popular with families and holidaymakers alike, this new direct service from Dublin is timed to arrive in Cherbourg early enough to facilitate easy onward travel to campsites and holiday centers throughout France.

With the introduction of the Epsilon and their new route from Dublin to Cherbourg, the intention on the part of Irish Ferries is to provide an economy-style service distinctly different from that operated by their cruise ferry Oscar Wilde which will continue to service routes from Rosslare to Cherbourg and Rosslare to Roscoff as before.

Irish Minister for Transport, Tourism & Sport, Leo Varadkar, said a new direct ferry route from Cherbourg to Dublin is good news for Irish tourism and will build on the success of The Gathering: "This weekly ferry route from Cherbourg to Dublin will provide tourists from France and mainland Europe with a direct car link into the capital. It will help us to build on the success of The Gathering in promoting Ireland as a visitor destination."

Varadkar continued, "Ireland is well catered for in terms of aviation access, and new aviation routes are announced on a regular basis. But as an island it's important that we give visitors plenty of options to bring their cars as well. Tourists on driving holidays tend to stay longer than those who fly, and are more likely to travel around the country."

Because of the more limited range of cabins and passenger attractions on board the Epsilon when compared to the Oscar Wilde, Irish Ferries is seizing the opportunity to offer customers lower fares and an even broader choice of route options. In this way, the company is extending the appeal of a motoring holiday in France to an even wider segment of the market.

Built in 2011, the Epsilon has capacity for 500 passengers. Economy style facilities on board include a bar, cafeteria, self-service restaurant, two and four berth cabins, free wifi service and 2,860 lane meters of vehicle deck parking space.

Commenting further, Dermot Merrigan said, "Our new Dublin to Cherbourg direct service will appeal to those living within and beyond our capital city. Fast access straight through the city or via the Dublin Port Tunnel ensures that our new Ireland – France service will be more accessible to all."

Fares for this new Dublin to Cherbourg car ferry service, from €99 Car & Driver, can be booked at irishferries.com.