Al Fenci and Al Durrah: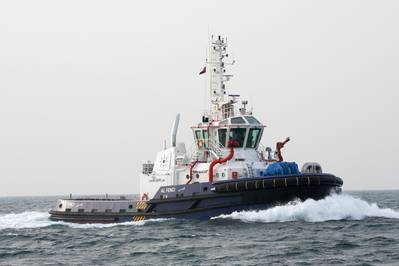 Two New RAmparts 3200s by Grandweld for ADPC

The Al Fenci and Al Durrah, the first two new RAmparts 3200 tugs have been successfully delivered to Abu Dhabi Ports Company by Grandweld Shipyards. The vessels are specially designed to assist in marine and Harbour operation at Khalifa Port including escorting & towing, mooring/unmooring, and fire-fighting operations.

The design is based on an intended low-manning operation, with a high standard of machinery automation. Particular attention has been paid to the crew comfort, with high levels of noise and vibration control. This is has been certified by ABS with the HAB notation for workboats.

The Al Fenci and Al Durrah are classed and built according to American Bureau of Shipping notations: - A1 Towing Vessel (55T BP),  AMS, Unrestricted Navigation, Fi-Fi 1, QR, HAB + (WB)
Particulars:
Length O.A.: 32.00 metres
Beam, moulded, extreme: 12.00 metres
Depth, moulded (hull): 5.36 metres
Maximum Draft: 5.00 metres