Ecochlor Launches NanoVapor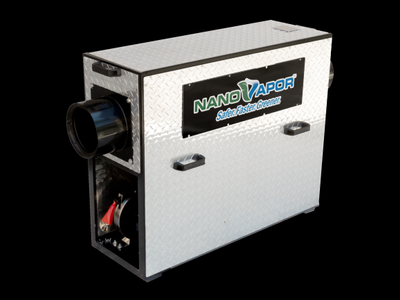 Ecochlor to represent NanoVapor in the maritime industry.
The NanoVapor technology improves crew safety while significantly reducing time and any environmental pollution related to gas-freeing VOCs from cargo or bunker tanks. A single application can continue to suppress VOCs for days. The NanoVapor degassing process is more cost effective than traditional methods of cleaning these types of tanks.
A NanoVapor unit consists of two components: a nano-suppressant liquid, TankSafe and a portable delivery unit, Model ST-1000. The delivery unit operates using a compressed air source to create a high-flow air stream to inject the suppressant molecules into the tank. The molecular suppressant works up to 90% faster than current enclosed space procedures to quickly suppress VOC evaporation.
TankSafe is engineered from renewable materials, is readily biodegradable and leaves no residue or hazardous waste product behind for clean-up or disposal. The ST-1000 delivery unit is intrinsically safe and ATEX Zone 2 rated with no electrical or moving parts.
NanoVapor is finalizing testing with Lloyd's Register for type approval.
The product launch will be at Marintec China 2019.