Ecochlor Selects Drew Marine for Global Resupply and Service Support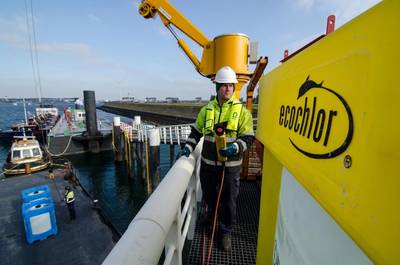 Ecochlor signed an agreement with Drew Marine to assist them in providing logistics support for the resupply of their BWTS precursor chemicals at selected ports and harbors globally. In addition,
Drew Marine will
provide chemical storage
at designated ports, delivery of the precursor chemicals, and technical support to ships fitted with the Ecochlor BWTS.
"This collaboration aligns with our vision to offer a strong commitment to the safety of mariners as well as expands our efforts to meet the chemical resupply and maintenance needs of the shipowner," said Tom Perlich, President and Founder of Ecochlor.
"As the premier water treatment supplier to the marine industry, our collaboration with
Ecochlor coupled
with the outstanding technology they offer to the marine industry, awards us both the opportunity to support our customers with their safety and regulatory compliance challenges and enables Drew Marine to deliver solutions consistent with our mantra – Reliability. Performance. Compliance," said Daniel Kelleher, SVP of Marketing, Technology, and Supply Chain, for Drew Marine.