Eisenhardt To Step Down As CMA President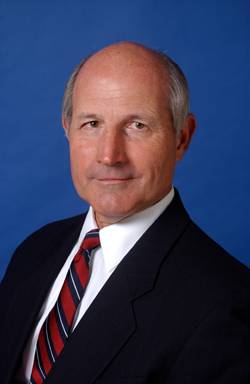 Dr. William B. Eisenhardt, president of The California Maritime Academy, today announced he will step down from his position at the end of the 2011/2012 academic year.
"Although these are challenging times, the academy is in very good shape programmatically, financially, and has an excellent world-wide reputation," President Eisenhardt said in a message to the campus community. "We have moved into graduate education and maritime related research, have upgraded our academic facilities, are still planning for exciting new facilities, and are financially stable. I feel that it's a good time to transition into new leadership that will help Cal Maritime continue on this course of excellence." Eisenhardt added that he will work with CSU Chancellor Charles B. Reed and the new president to help ensure as smooth a transition as possible. The chancellor's office will begin the national search for a new president this spring.
"During his tenure, Bill's leadership has taken Cal Maritime to the next level where it is recognized nationally as one of the very best maritime academies," said Chancellor Reed. "His accomplishments in enhancing the academic programs, facilities, student life and financial foundation of the university have set the campus on a path of excellence for today and into the future." Eisenhardt took over as president of Cal Maritime in July 2001. Since then, enrollment has doubled and Cal Maritime has become one of the most diverse maritime academies in the world; nearly 20 percent of the cadets are women, and more than 30 percent are under-represented minority groups.

Under Eisenhardt's leadership, Cal Maritime's operating budget has doubled and major capital improvements have exceeded $37 million. He presided over the addition of two new academic buildings and led the planning and development of Cal Maritime's $15 Maritime Simulation Center, the finest such facility in the world. He continues to lead the planning for an additional $52 million in capital improvements, including a $34 million physical fitness and water survival center, an $18 million dining hall, and the $1.8 million transformation of the campus's only athletic field from sod to synthetic turf. In addition he has overseen the growth of grants and research contract work averaging over a million dollars per year.

He has also overseen completion of a series of multi-million dollar enhancements to the academy's 500-foot Training Ship Golden Bear, including the development of an onboard state-of-the art navigation/simulation lab and the installation of a ballast water invasive species treatment testing platform unique to the United States. Eisenhardt's efforts to increase the exposure of Cal Maritime have resulted in the academy becoming an internationally recognized leader in maritime education. It has been honored year-after-year by U.S. News and World Report and Forbes magazines as among the top colleges in the country, and was also included on the 2011 list of Military Friendly Schools. The campus has also received international acclaim as being among the best of the 51 maritime academies and universities from 32 countries within the International Association of Maritime Universities, for which he has held several leadership positions.

"It has been a privilege to serve as president of Cal Maritime for the past 11 years, and has been extraordinarily satisfying on both a professional and personal level," said Eisenhardt. "What I am most proud of are the accomplishments of our faculty, staff and students, which has earned us a worldwide reputation as one of the finest institutions of maritime education and training in the world."

Eisenhardt has overseen a fivefold expansion in charitable giving to the campus from alumni, industry, parents and friends. He was responsible for securing the largest charitable donation in the academy's history: $3 million from ABS, which has been used to establish the ABS School of Maritime Policy and Management. An additional major gift from alumnus Robert McAllister made possible the construction of a badly needed third residence hall on campus. He established two high profile annual fundraising events – the CMA Foundation Golf Classic and Cal Maritime's Annual Gala, which combined annually net nearly a quarter of a million dollars of support for scholarships and academic programs on campus. The events have helped contribute to the quadrupling of financial aid opportunities for students over the last decade.

Before coming to Cal Maritime, Dr. Eisenhardt spent 18 years at Maine Maritime Academy, where he served as a professor, Commandant and then Provost. He is a native of Baltimore, MD, and a 1966 graduate of the United States Naval Academy at Annapolis, where he earned academic stars in engineering. After his Navy service, he attended Duke University, where he earned his master's and Ph.D. degrees while also teaching as a visiting professor. He and his wife Kathryn currently live on the Cal Maritime campus. Upon his retirement, the couple will be returning to their home in Maine, where they will be closer to their two grown daughters and two grandchildren. Eisenhardt said they look forward to traveling and spending more time with family.

"Cal Maritime will always hold a special place in our hearts," said Eisenhardt. "Kathryn and I will continue to have an interest in the welfare of Cal Maritime and the dedicated faculty and staff, alumni and cadets because they have been such an important part of our lives for so long."