All Electric Pilot Boat Design Unveiled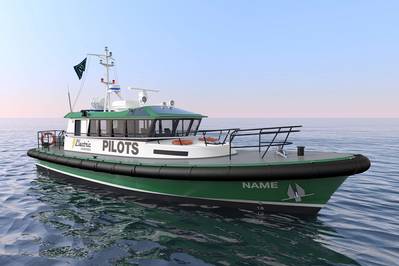 Robert Allan Ltd. has developed a new all electric pilot boat for service involving short trips where the run to the ship is 5 nautical miles or less.

An aluminum version of its steel predecessor, the RAlly 1600-E boasts a fully electric twin screw drivetrain and a substantial bank of high energy density batteries that are recharged from shore power. Twin small auxiliary generators give "get home" and range extension capability but are normally not running. The vessel runs quietly and emissions free and is capable of reaching speeds up to 20 knots.

According to the designer, the boat is best suited for short run applications of 5 nautical miles or less and where there is time between jobs to recharge the batteries. Pilot boats typically run at or near top speed with the pilot on board, then loiter for some time and may return at a more efficient medium speed. In this mixed-use scenario with a 5 NM run, the RAlly 1600-E can complete a full operation totally on batteries with 30 percent of nominal battery capacity to spare.

The new boat is aluminum with the same total weight, power, and speed as the steel prototype. The weight saved in eliminating the diesel engines and their support systems, removing the diesel fuel, and changing to an aluminum hull provides the weight budget for the new electric drive and batteries.

Length overall: 16 m
Beam: 5 m
Power: 2 x 500 kW
Speed: 20 knots
Crew: 2
Pilots: 4

The propulsion motors are 500 kW 2,800 rpm permanent magnet 750 volt AC electric motors controlled by frequency convertors providing a full range of speed. The motors drive through standard ZF or Twin Disc 3:1 reverse/reduction gears to conventional shafting and 840 mm propellers.

The battery system is key and consists of 70 modules of Spear SMAR-11N-224 units providing a capacity of 815 kW-hours. As required by Class they are arranged in a separate compartment which is located in the middle of the boat between the accommodations and the machinery space. The batteries are liquid cooled and the entire space is well ventilated and fitted with a FirePro fire extinguishing system. The same batteries also power the boat's normal electrical load of lighting, etc. The entire design is eligible for Class approval such a Lloyd's, ABS, or Bureau Veritas.

Some recent RFPs issued for pilot boats have specified 65 dB or lower noise levels in the occupied spaces. This is feasible on large vessels where the power/weight is low and the accommodations are some distance away from the machinery but almost impossible in small, fast, high powered boats. However with electric drive it becomes possible. The electric motors generate less noise and run smoothly compared to diesel engines.

The basic cost of the electric pilot boat will depend on where it is built and what electrical system is chosen. The added capital cost of the electrical propulsion system is offset by virtually eliminating fuel costs and greatly reduced maintenance costs. The payback period is dependent on diesel and electricity costs and number of operating hours per year.