Ponant Orders Electric/LNG Icebreaker Cruise Ship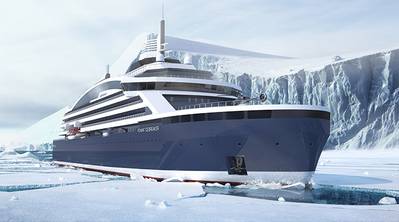 French cruise line Ponant has ordered the world's first hybrid electric cruise icebreaker with liquefied natural gas (LNG) propulsion, due to take passengers to extremely remote polar locales from 2021.
The polar-ready luxury liner will be constructed by
Fincantieri subsidiary
Vard Holdings Limited, who secured the approximately $320 million shipbuilding contract. The hull will be built at Vard Tulcea in Romania, with delivery from Vard Søviknes in Norway scheduled for the second quarter of 2021.
The Polar Class 2 expedition vessel is designed to sail to remote polar destinations such as the geographic North Pole (90 degrees North Latitude), the Weddell Sea, the Ross Sea and Peter I Island. Developed by Ponant in close cooperation with Stirling Design International, Aker Arctic and VARD, the vessel is said to be the world's first electric hybrid cruise vessel with icebreaker characteristics and dual fuel propulsion, featuring high-capacity batteries and LNG storage on board.
The vessel will be approximately 30,000 gross tons, about 150 meters long, 28 meters wide, and will have a cruise speed of 15 knots in open water. The vessel can accommodate 270 passengers in 135 staterooms, in addition to a crew of 180 persons. It will also be equipped with two helicopters in in-house hangars.
Nicolas Dubreuil, head of expedition at Ponant, said, "The Ponant Icebreaker is going to enable us to visit places previously unexplored until now due to their extreme remoteness. I've already imagined winter expedition cruises across the Nunavut ice field, and to
Greenland
, to get within close proximity of the Inuit camps."
Dubreuil continued, "As for the Geographic North Pole, it will no longer be an inaccessible dream. PONANT will soon have at its disposal the very first passenger ship capable of reaching this mythical destination."
To ensure operation in these harsh and ice infested areas, Ponant
contracted Aker Arctic
to take part in the design process and evaluate the different operational areas in order to set up the design basis for the vessel technical requirements and operation prior to its development.
Length: 150 m
Width: 28 m
Draught: 10 m
Ice Class: PC 2
Propulsion: LNG & Hybrid electric
Classification: Bureau Veritas
Flag: French
Cabins and suites with balcony: 135
Including suites with patio doors and a private balcony: 68
Crew members: 187
Panoramic restaurants: 2
Grill restaurant: 1
Spa & Wellness: 1
Onboard expedition Zodiac dinghies: 16
Onboard helicopters: 2