ATLAS ELEKTRONIK Enhances SeaFox Systems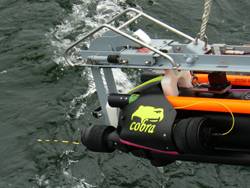 ATLAS ELEKTRONIK enhance capabilities of its SeaFox Systems with EOD tool COBRA.
Bremen/London, 13 September 2011 - ATLAS ELEKTRONIK has recently teamed with ECS Special Projects Ltd. to exclusively provide the EOD tool COBRA for the ATLAS SeaFox Sys-tem. The COBRA (Clip-On BX-90 Re-loadable Assembly) can be fitted to the re-usable SeaFox vehicle offering Explosive Ordnance Disposal (EOD) capability from surface to 300m. Combined with the Rigid-hull Inflatable Boat (RHIB) based SeaFox VSW version COBRA pro-vides a hard-kill disposal capability which can be delivered by remote means by MCM Expeditionary Forces.
With COBRA ATLAS is also able to satisfy the market demand for a cost effective historical ordnance disposal capability and offer multiple target prosecution / multiple target initiation by remote means which makes the whole SeaFox System unique.During Operation Open Spirit 2011, a multi national ordnance disposal exercise in the Baltic Sea, COBRA and SeaFox-I successfully disposed of several items of historic ordnance.