EMS Offshore Chooses Damen Shoalbuster 271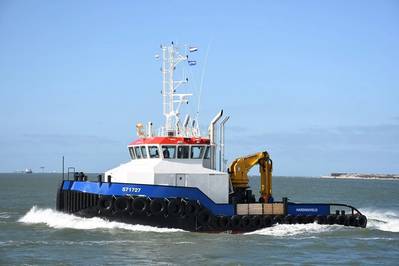 Damen Shipyards Group has won an order from maritime services company EMS Offshore Service GmbH & Co. KG for a Shoalbuster 2711.
The 2711 is the latest addition to the Shoalbuster range, having made its debut in June this year.
The new Shoalbuster 2711 design changes will enable it to comply with new MLC regulations stipulating additional accommodation capacity. By increasing the width of the existing Shoalbuster 2709 by two meters, Damen has boosted the accommodation capacity from six to seven personnel. The extra beam include an increase in the area of the aft deck that allows the accommodation of two 20ft containers, while enhanced stability increases the lifting ability of the deck crane to 5.5 tonnes @ 18.5 meters.
With the vessel having additional buoyancy compared to its predecessor it can carry more and heavier equipment on the increased deck space, and the bollard pull at 45 tonnes is greater than it would otherwise be as the extra beam means it can be fitted with larger, more powerful nozzles.
The vessel's anchor handling notation provides the extra stability allowing it to handle bigger and heavier anchors.
The additional adaptations required by EMS Offshore will take place at the build yard, Damen Shipyards Hardinxveld, and Damen is also offering after-sales servicing and spare parts support designed to ensure maximum uptime and reliable operation. EMS Offshore will use the vessel primarily for transport and installation and maintenance works in shallow waters such as the Baltic and North Seas.
Damen will deliver the vessel in January 2020.