Wilton Engineering Secures North Sea Project With Subsea 7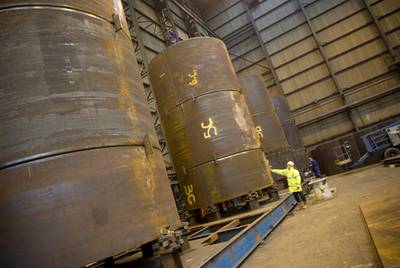 Wilton Engineering Services (WESL) Limited – the international design, engineering and fabrication business – has secured a multi-million pound contract with Subsea 7.
Wilton Engineering, a Wilton Group company, will construct support clamps for work on DONG Energy's SIRI Caisson Support Project in the Danish sector of the North Sea.
Subsea 7 announced last year that it had won an offshore engineering and construction frame agreement with DONG Energy in support of the project.
The Wilton Group, which employs 700 people at businesses in Aberdeen, Dundee, Teesside, Great Yarmouth and Brazil, has secured oil and gas contracts worth more than £55m in the past four months.
"This latest project serves to underline our capabilities to work with global companies to deliver design, engineering and fabrication solutions. We're delighted to be working on this project," said Des Hatfield, Wilton Business Development Director.
Wilton Engineering is carrying out the major task of fabricating large caisson clamps. This permanent solution consists of installing three piles next to the SIRI subsea storage tank and connecting them to the caissons with the fabricated clamps, including cable stays. This is part of an on-going program.
SIRI is located in the Northwest part of the Danish sector of the North Sea. The SIRI platform is moored in 197 feet (60 metres) of water and is a combined wellhead, processing and accommodation facility.