Truman Strike Group Enters European Theater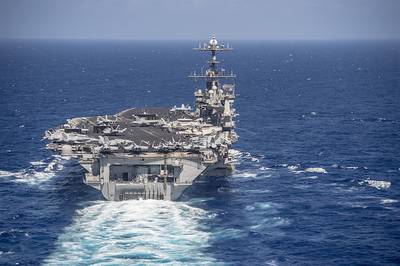 The Harry S. Truman Carrier Strike Group (HSTCSG) entered the U.S. 6th Fleet area of operations April 18, 2018 as part of a routine deployment in support of NATO allies, European and African partner nations, coalition partners, and U.S. national security interests in Europe and Africa.
The presence of the HSTCSG demonstrates the multi-mission capability of the U.S. Navy's globally deployed force and is part of an ongoing rotation of forward-deployed forces to support maritime security operations in the U.S. 6th Fleet area of operations.
The HSTCSG consists of the Nimitz-
class aircraft carrier
USS Harry S. Truman (CVN 75); Ticonderoga-class guided-missile cruiser USS Normandy (CG 60); Arleigh Burke-class guided-missile destroyers USS Farragut (DDG 99), USS Forrest Sherman (DDG 98), USS Bulkeley (DDG 84), and USS Arleigh Burke (DDG 51), along with the embarked staffs of Carrier Strike Group (CSG) 8, Carrier Air Wing (CVW) 1 and Destroyer Squadron (DESRON) 28. Embarked aviation squadrons include Strike Fighter Squadron (VFA) 11; VFA-81; VFA-136; VFA-211; Electronic Attack Squadron (VAQ) 137; Early Warning Squadron (VAW) 126; Helicopter Maritime Strike Squadron (HSM) 72; Helicopter Sea Combat Squadron (HSC) 11; and a detachment from Fleet Logistics Support Squadron (VRC) 40.The Sachsen-class German frigate FGS Hessen (F 221) is also operating as part of the strike group during the initial portion of the deployment. The Arleigh Burke-class guided-missile destroyers USS Jason Dunham (DDG 109) and USS The Sullivans (DDG 68) are slated to deploy and rejoin the strike group at a later date.
"We are thrilled to have the Harry S. Truman
Carrier Strike Group here
in the U.S. 6th Fleet area of operations and look forward to having them on our team as we conduct the full spectrum of maritime operations to include working alongside our NATO allies and regional partners. Our U.S. 6th fleet motto is "Power for Peace," and there is no more recognizable symbol of American naval power than a carrier strike group. Their presence in this vital region is a reflection of our commitment to a safe, prosperous and free Europe and Africa."