Feadship Chooses Floor2Plan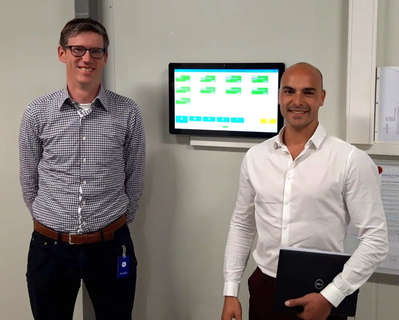 Floorganise has developed the Floor2Plan toolset enabling shipyards to control and manage their projects more accurately and in more detail. The toolset significantly reduces the duration of projects and the hours spent on them. Just recently, the innovative shipyard Royal van Lent | Feadship started implementing Floorganise's time tracking module.
A lot of shipyards experience a gap between the physical reality on the shop floor and the knowledge available in their office-based (IT) systems. Floorganise bridges this gap with shipbuilding-specific tooling and knowledge of increasing shop floor performance and efficiency. Floor2Plan, a modular toolset, originates from the shipbuilding sector and is currently employed throughout the world, with over 300 vessels built using F2P.
Royal van Lent is pleased with the first results gained by using Floor2Plan. All activities performed by staff are assigned, accounted for and approved using Floor2Plan. The impact is conclusive – a decrease in manual data transfer, a significant reduction of the time and paper trail, and weekly insights into the hours worked for the hundreds of workers across various production locations.
Floor2Plan
Floor2Plan is a toolset that enables integrated project planning and shop floor control for shipbuilders. It integrates with your ERP system and all the relevant IT infrastructure within the specific yard such as Primavera or time and attendance. Floor2Plan makes sure each of the separate trades or departments are provided with all relevant information regarding active tasks for all relevant projects, priorities, dependencies, material status and component status, as well as current department performance and other details. Project managers get a daily update on all progress and risks.
Applying this approach guarantees that risks are detected sooner and that managing the project is based on actual progress and current risks. The time to get from configuration to implementation on the shop floor is usually around six weeks, demonstrating how well we understand shipbuilding and the primary processes involved.