Feeder Ship in Service, Hamburg to Finland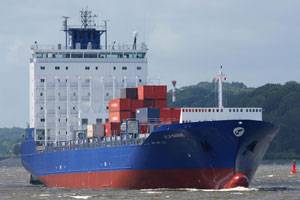 The feeder ship A La Marine was welcomed at the Port of Hamburg's terminals on 8 June 2009 for the first time. Built at the Peene Shipyard in Wolgast, which belongs to the Hegemann Group, the ship measures 557.7 ft in length and 82 ft in width and has a cargo carrying capacity of 1440 TEUs, as well as 316 connections for refrigerated containers (reefers).

The new ship belongs to the fleet of the Belgian shipping company Delphis. Since being delivered it has been in service in the Baltic region for Delphis subsidiary Team Lines, one of the leading European operators of feeder services. Every 14 days the A La Marine puts in to the container terminals of the Finnish ports of Kotka and Helsinki.

In the year 2008 the volume of container cargo between the Port of Hamburg and Finland amounted to 430,000 TEUs. This puts Finland in fourth place in the list of the Port of Hamburg's most important trading partners. Hamburg is moreover the most important transshipment node in northern Europe for consignments going to the Baltic. Last year on average there were 146 weekly departures from Hamburg going to the Baltic region, including 22 departures for Finnish ports.