Fincantieri Launch Large Patrol Boat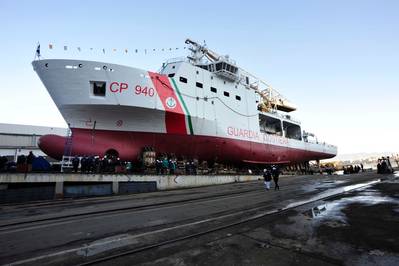 The first of two multi-purpose vessels for the Italian Coast Guard was launched at Fincantieri's Castellammare di Stabia (Naples) Shipyard.

Ships of this class are designed to operate in open seas in particularly bad weather conditions and will be used for search and rescue, anti-pollution and fire-fighting missions and to control illegal immigration. They will also be able to perform complex naval missions for central command. With a length of 94 metres and 16-metre beam, they will be able to reach a top speed of about 18 knots with a range of more than 3,000 miles, and will have a full load displacement of some 3,600 tons. They will be able to accommodate a crew of 38, with room to board 12 additional technicians and 60 shipwreck survivors.

The godmother of the ceremony to launch the first ship, Luigi Dattilo, due to be delivered to the Coast Guard next spring, was Mrs. Carlotta Dattilo (daughter of Port Lieutenant Colonel Luigi Dattilo, navy silver medal of honour, who was represented on this occasion by her grandchildren, Massimo Dattilo and Carla Di Marcantonio.

The vessel will also be equipped with four fast rigid-hulled inflatable boats with speeds of up to 35 knots for use in different types of mission and emergency response, and they will have a large stern door for entry and recovery. A landing pad for AB212 or AW139 helicopters is also provided.

The ship is equipped with a hybrid propulsion system, involving an auxiliary diesel-electric engine for use at the low and very low speeds needed when performing surveillance and control missions for long periods.

The ships will meet be certified by the Registro Italiano Navale (RINA) and by the technical team of the General Command of the Port Authority Corps.