Cruise Ship 'Regal Princess' Launched in Fincantieri Shipyard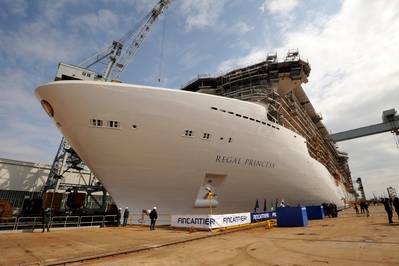 The largest ship ever built by the Italian group, & the future Carnival flagship, is launched at Fincantieri's Monfalcone shipyard.
Delivery is scheduled for spring 2014, while sister ship, "Royal Princess", launched in August 2012, will be delivered in the first half of this year.

Attending the ceremony for Princess Cruises were Rai Caluori, Executive Vice President Fleet Operations, and Stuart Hawkins, Vice President Newbuilding. Representing Fincantieri were, among others, Enrico Buschi, Chief Operative Officer, and Carlo De Marco, Shipyard Manager.
Godmother of the ceremony was Carolyn Spencer Brown, editor of Cruise Critic.
The builders say that the construction of "Regal Princess" consolidates Fincantieri's primacy in building the largest passenger ships in Italian shipbuilding history. In fact, at 141,000 gross tons, 330 metres long and 38 metres wide, the new ship is the largest ship ever built by Fincantieri.
It has 1,780 cabins, of which 1,438 are with balconies (81% of the total), and the new ship is able to accommodate 3,600 passengers, with total capacity for over 5,600 people including crew.

Features of this construction are the rational use of space, with the aim of avoiding any wasted tonnage that would otherwise increase operating costs, as well as energy saving to reduce emissions into both the atmosphere and sea water. Consequently the ships will be able to adapt to every possible type of cruise, operating from Alaska to Australia, even in environmentally protected areas where navigation is restricted.