Silversea Orders Another Ship at Fincantieri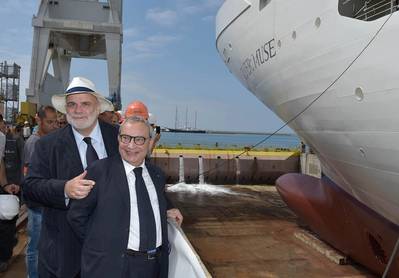 Monaco based cruise line Silversea Cruises has ordered another new ship from Italian shipbuilder Fincantieri, with delivery scheduled for the fourth quarter of 2021.
The $382 million contract for the construction of luxury cruise ship Silver Dawn follows Silversea's September 2017 order for sistership Silver Moon to be delivered from Fincantieri in 2020.
The newbuilds will be the second and third vessels in the Muse-class series. Both are sisters to Silversea's 40,700 grt flagship, Silver Muse, delivered from the Fincantieri shipyard in Sestri Ponente, Genoa in April 2017.
"Following the extraordinary success of Silver Muse, we are delighted to announce Silver Dawn as the 11th ship to join the Silversea fleet," said Manfredi Lefebvre d'Ovidio, Silversea's Chairman. "Silver Dawn will bear the same hallmarks of quality that guests currently enjoy on our six-star ships. We look forward to welcoming guests aboard in November 2021. It was my father's [Silversea fonder Antonio Lefebvre] dream to grow Silversea to at least a 12-ship fleet; today, we are one step closer to fulfilling his vision."
Fincantieri CEO, Giuseppe Bono, said, "It is a great satisfaction for our group to see an ambitious project like Silver Muse establish itself on the market and get the highest appreciation from an exclusive and demanding customer like Silversea, that today confirms his trust in us. Thanks to this partnership, based on the quality of the product, our leadership position in the cruise sector is further strengthened, not only from a technological point of view, but also for the commercial ability to find the best agreement with the shipowner."