Fire-stricken Fishing Vessel Grounds in the Samoan Islands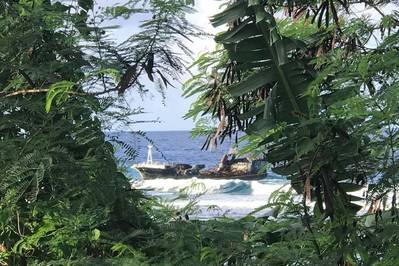 A fire-stricken commercial fishing vessel that had been adrift in the Pacific for more than three months has run aground in the Samoan Islands on Monday.
The 88-
foot Taiwane
se-flagged Chu Zai Fa No. 1 reportedly caught fire in international waters on November 4, 2017 and remained adrift until this week, when it grounded in Leone Bay about 300-yards off the western part of Tutuila, the main island of
American Samoa
.
The fire forced the Chu Zai Fa No. 1 crew to abandon ship, and most were rescued by a Korean-flagged vessel and brought to Fiji aboard a sister fishing vessel. The master and one crewmember are said to be missing.
The
U.S. Coast Guard said
it is working with port partners and local authorities in American Samoa to determine pollution response and salvage plans.
The Coast Guard said some of the vessel's diesel fuel may have burned off in the fire, leaving an estimated 13,000 gallons on board.
Responders are considering plans to anchor the vessel in place to prevent shifting or damage to the area's coral reefs as deteriorating weather – including rain showers and isolated thunderstorms, winds up to 45 mph, and seas up to 10 feet combined with hazardous north swells – is expected to complicate response efforts.
The responsible party has provided significant financial resources to ensure the proper steps are taken in mitigating this issue, the Coast Guard said.