Drydocks World Looks to Foresight Offshore Rig Orders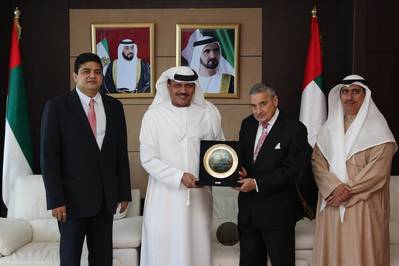 Principals were in discussions hosted by His Excellency Khamis Juma Buamim, Chairman of Drydocks World & Maritime World about the Middle East shipbuilder taking on a number of orders to build 'Le Tourneau Super 116E' drilling rigs for Foresight Limited, as well as other mutual opportunities.
Offshore drilling and tankers and multipurpose ships form part of the fleet owned by Foresight Limited and managed from Cyprus. Considering the emerging leadership role of the UAE in the international maritime arena and its rapid evolution into a hub for maritime activity, the company said it now wants to shift its base and run its operations from the UAE. Dubai Maritime City will offer support and assistance for the company to establish itself in the region.

His Excellency Khamis Juma Buamim said, "We are delighted that more and more companies are acknowledging the emerging clout of UAE in the maritime and energy, oil & gas arena. We are emerging as a strong contender in building drilling rigs and jack-up barges for the offshore oil & gas sector and have proven our mettle with some highly successful projects of great international significance, in recent times.

Moreover, there is sustained interest from companies all over the world in the world-class Dubai Maritime City, which holds a cornucopia of companies with maritime interests, creating vital synergies for the growth of the industry, which is emerging from the global financial meltdown."

The Drydocks World chairman met with Mr. Ravi K. Mehrotra CBE, Executive Chairman of Foresight Limited and Executive Chairman and Co-Chairman - Europe India Chamber of Commerce, Belgium, and in the presence of Mr. Ali Bin Towaih, VP business development, Commercial and Project Management , Drydocks World and Mr. Amulya Mohapatra, Head of Shipping Cyprus .