Oldest Great Lakes Freighter to Operate as a Barge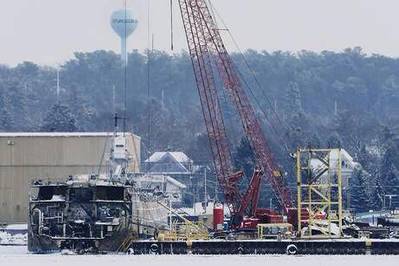 November 2013 marked the final voyage of historic freighter St. Marys Challenger, a 1906-built cement carrier regarded as the oldest operational vessel on the Great Lakes. But the ship is now being prepped to enter a new life—as a barge.
The 562-foot steamship, which operated for more than 100 years on the Lakes, has already been stripped of its fuel tanks, pilot house and a portion of its deck as part of the conversion process, according to the Chicago Tribune. Port City Steamship Holding, the vessel's owner hopes the barge will enter work this spring.
With the onset of new environmental regulations, operating the vessel as a barge makes more sense financially for the owner, company president Chuck Canestraight told the Tribune, citing repair, outfitting and diesel engine conversion costs upwards of $20 million, more than double the conversion bill. He noted that operation costs for barges are also significantly lower than those of freighters.
There are many who do not want to see the freighter leave service, though. More than 700 Facebook users like the "Save the St. Marys Challenger" page, which was founded last October to rally a preservation campaign for the vessel.