French Sea Rescue Puts DOLPHIN S to the test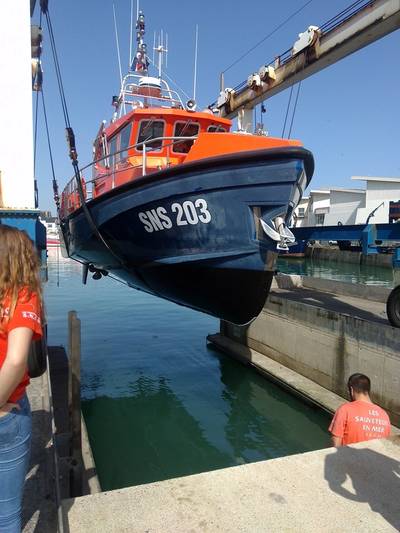 The voluntary French sea rescue organization "Société Nationale de Sauvetage en Mer" (SNSM) has had one of its 12 meter-long rescue vessels (SN 203) coated with the Fouling Release Film Renolit Dolphin S.
The test at the location of Pornichet, near Saint-Nazaire in Brittany is being monitored by the SNSM's National Technical Department and is scheduled to run for one year. All necessary performance parameters of the film on the hull will be routinely checked by divers.
The non-profit organization, comparable with the German Maritime Search and Rescue Association (DGzRS), hopes that the use of the film will significantly cut fuel consumption in its vessels. Also important to the SNSM is the weathering resistance of the film because hulls are subject to extreme conditions along the coastline of Brittany, especially in winter.
Furthermore, the rescue organization wants to set an example for environmental protection with the biocide-free RENOLIT DOLPHIN S film because legal requirements in French coastal waters are very high.
As the average life-expectancy of RENOLIT's Fouling Release Film is five years, SNSM is hoping that its vessels will have to spend less time in dry-dock. As the boats are in use around the clock, they must be easy to clean. These factors contribute to a significant increase in the operational availability of the rescue vessels.
Multigraphic, RENOLIT's certified French partner company, set up the contact to SNSM. The filming of a reference boat served as a demonstration of RENOLIT DOLPHIN S in real-life conditions. When it comes to introducing new technologies, other shipping companies and ship owners consult closely with the SNSM and if trials are successful, use these on their own fleets. RENOLIT used similar methods to gain access to markets in United Kingdom and Denmark.