Robert Allan Z-Tech Tugboats for Galveston, Texas, Harbour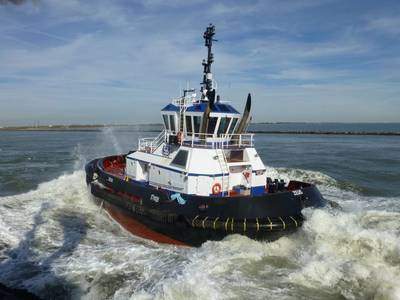 Designers, Robert Allan, inform that Leevac Shipyards has completed the construction of the second of their Z-Tech designed 2400 tugs. The latest, 'Zeus', has been delivered to its owners Suderman & Young Towing Company of Houston, Texas following the earlier delivery of her sister 'Chloe K' to her owners: Bay-Houston Towing Co. of Houston, Texas. Both tugs are operated by G&H Towing of Galveston, Texas on behalf of their owners.

The Z-Tech Class tugs from Robert Allan Ltd. are designed primarily for operation in major ports and marine terminals. The design of the Z-Tech® tug emphasizes the safe and capable operation of ship-handling operations with large ships, particularly those with extreme flares. It offers an omni-directional performance; speed and bollard pull astern are almost equal to that going ahead.

After taking delivery of eight Z-Tech® 7500 Class Escort Tugs, the designers add that G&H Towing Company contracted them to develop this new compact class of high performance ASD ship-handling/escort tugs.

Brief particulars
The vessels meet all USCG requirements for vessels under 200 US GRT. Although the vessels are not required to meet Loadline regulations, the owners have opted to voluntarily comply with ICLL.

The 80-ft long vessels have been outfitted to high standards for a crew of 6 people. The main deckhouse contains the galley, mess, and two officer cabins with shared washroom. The lower deck contains two double berth cabins, a storage space and a common washroom. The wheelhouse is provided with a single split control station which provides maximum visibility for both ahead and astern operation with excellent visibility over the aft working deck.

Main propulsion consists of a pair Caterpillar engines, model 3516C HD, each rated 2,575 bhp at 1,600 rpm, and each driving a Schottel SRP1215 Z-drive.

The electrical plant comprises two John Deere generator sets, each with a power output of 99 kW.

The deck machinery comprises a forward hawser winch, Model DEPCF-48S from Markey with a brake holding load of 330,000 lbs (147 LT) and a line pull of 16,000 lbs at 83 ft/min. The winch is electrically driven. The aft deck has a tow bitt of 60 tonnes SWL.

Ship-handling fenders at the bow comprise an upper row of 36" diameter cylindrical fender and a lower course of Schuyler SR3D-2 double loop soft fenders. The stern has one course of 16" diameter cylindrical fender. Sheer fendering consists of Schuyler double loop soft fender.

The tugs demonstrated their performance at sea trials by achieving an average speed of 12.3 knots and bollard pull of 61.1 tonnes.