Wärtsilä Launches GasReformer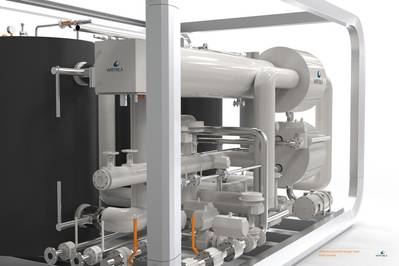 Wärtsilä's unique GasReformer uses steam reforming technology to convert associated gas to a quality that can be used as gas-engine fuel.

The Wärtsilä GasReformer enables gases produced during oil production, which by nature are rich in heavy hydrocarbons, to be converted into a methane rich product for utilization in Wärtsilä dual-fuel engines operating at full performance levels. Traditionally such gases would be flared and wasted. While catalytic conversion of hydrocarbon feeds to hydrogen is a known process dating back to the early 20th century, the Wärtsilä GasReformer represents a totally new application under quite different conditions than that of the traditional process.

Associated gas from oil production is normally considered as waste and is consequently flared into the atmosphere. The World Bank-led Global Gas Flaring Reduction Partnership estimates that globally around 150 billion cubic metres of gas are flared or vented every year, causing some 400 million tons of carbon dioxide in annual emissions. That is equivalent to 30 per cent of the European Union's gas consumption.

The Wärtsilä GasReformer treats this gas and converts it into a stable composition that can be used as fuel for Wärtsilä engines. This means that oil platforms and FPSO's, which demand high levels of power, can utilize an energy source that was earlier not used at all. Furthermore, since the power demand was previously met using marine diesel oil (MDO), the bunkering of MDO can mostly be eliminated when using the GasReformer. This results in direct and measurable cost savings.

"Wärtsilä has considerable experience in the treatment of gaseous fuels for fuel cells, and this patented product is a result of this development work. It is yet another example of the company's ability to develop solutions that combine both economic and environmental benefits. The uniqueness of the GasReformer is in its ability to convert unwanted heavier fractions from the gas into methane. By turning otherwise waste gas into fuel, the system significantly lowers operating costs while notably enhancing environmental sustainability. In locations where flaring is prohibited, this is especially important," says Tore Lunde, Director Wärtsilä Oil & Gas Systems.