Next Generation OWSV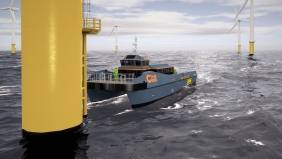 Essex-based CTruk boats began the build of a new wind farm support vessel.

As offshore wind farms move further out to sea, demands made on support vessels are changing. CTruk Boats recently initiated the build of a 50-ton payload support vessel designed to meet the tougher requirements of the next phase.

Powered by four Cummins 610hp engines and Rolls-Royce waterjets, the first CTruk 50T will join sister company CWind's charter fleet. CWind MD Peter Jorgensen commented, "A 28m CTruk 50T will mean we can do even more for wind farms further offshore. Alongside great sea keeping characteristics and more than double the payload capability of our existing workboats, the versatility of the 50T is really exciting, plus the 4-engine system brings with it all-important increased reliability."

This is the first complete vessel build to be contracted out by CTruk and the selection of Coastal Marine Boatbuilders (CMBL) in Eyemouth in the Scottish Borders represents a strategic partnership for potential future growth. The companies have worked together before, with CMBL producing deck components for CTruk's popular 20T vessel. The Eyemouth yard now plans to construct a specialist production facility for larger commercial vessels on 2.6 acres of land on the Gunsgreenhill Industrial Estate, an investment expected to contribute significantly to the local economy. The venture represents a departure from CMBL's traditional business and could lead to extra employment opportunities.

The launch of the first CTruk 50T MPC is planned for February 2014.