UK Chamber CEO Hails Shipping's Role in Globalisation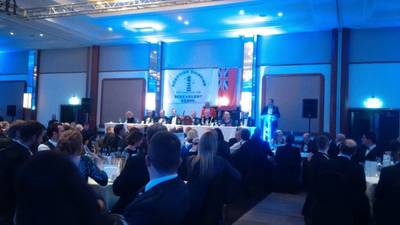 Capitalism, globalisation and international collaboration spread prosperity and growth - and shipping has a vital role to play in this process, Guy Platten, CEO, UK Chamber of Shipping said in his address to the annual Scottish Shipping Benevolent Association (SSBA) dinner in Glasgow last night.
A press release from UK Chamber
quoted Guy Platten
as saying: "Even though the world has never traded more, it seems like once again we have to defend trade, free markets and capitalism itself from those who would seek to tear them down," the UK Chamber CEO said.
His address coincides with new research that says the world's top 60 economies have adopted more than 7,000 protectionist trade measures since the financial crisis, according to data compiled from the World Bank, Heritage index and Global Trade Alert.
"Protectionism, whether in the UK, in the EU, the USA or anywhere else, will see trade fall and that extraordinary progress reversed. We must now allow it to," Guy said.
"So when we are arguing for change from government, when we are recruiting young seafarers or taking care of old ones and their families, let us remember – the success or otherwise of the shipping industry is about more than our bottom line alone."
Guy noted that the UK's shipping community no longer exists in a bubble, congratulating itself like "an industry whose best days lay behind it". Instead, he noted, "the UK Government is listening to maritime voices like never before".