More Greenpeace Activists Denied Bail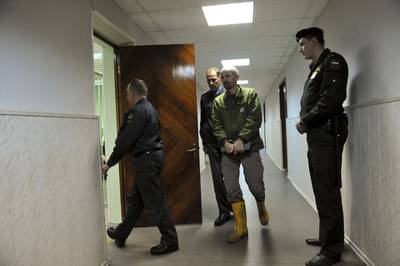 Greenpeace International activist Frank Hewetson (U.K.) has been refused bail by the Regional Court of Murmansk in Russia, bringing the number of rejected bail appeals to 10. Activist Marco Weber (Switzerland) also appeared in court today, but his appeal hearing was postponed until October 21 due to the lack of a German language translator. Italian crew member Cristian D'Alessandro will appear in court later for his bail hearing and more appeals will be held later this week.

Nina Gold, wife of detainee Frank Hewetson, said, "Frank has now spent three weeks locked up thousands of miles away from his family. He is accused of an absurd crime which clearly none of the Arctic 30 are guilty of committing. The only thing he is guilty of is participating in an entirely peaceful protest to raise awareness of a cause that he passionately believes in - protecting the planet and the fragile wilderness of the Arctic. He has two teenage children back home who miss him terribly, and not knowing when we'll be able to see him again is agony."

In court today, Hewetson said Greenpeace has a record of 40 years of peaceful protests and the allegation that the organization committed piracy is "absurd." He asked the judge to order all 30 detainees to be released so that Greenpeace can "better protect the environment."

In other developments, Greenpeace International Executive Director Kumi Naidoo was meeting today with Finnish Foreign Minister Erkki Tuomioja to discuss the situation around the Arctic 30 detainees, one of whom, Sini Saarela, is Finnish.

On Friday, October 18, to mark 30 days of detention - "30 days of injustice" - for the Arctic 30, Greenpeace will hold Solidarity Actions across the globe together with partner NGOs, celebrities and supporters.