Gulf LNG Orders Four New Tugs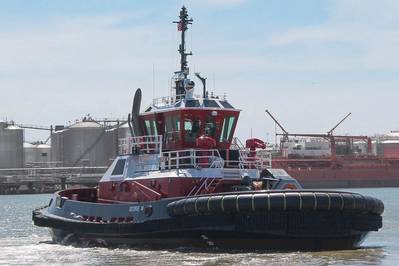 Gulf LNG Tugs of Brownsville has ordered four new tugs to serve the Rio Grande LNG export facility (RGLNG), which has commenced construction in Brownsville, Texas.
Gulf LNG Tugs is a joint venture formed between Bay-Houston Towing Co., Moran Towing Corporation and Suderman & Young Towing Company to provide tug services for RGLNG under a long-term tug services agreement.
The company announced Tuesday it signed construction contracts with Coden, Ala. shipyard Master Boat Builders and Port Neches, Texas shipbuilder Sterling Shipyard. Each shipyard will construct two Z-Tech 30-80 tugboats designed by naval architect Robert Allan Ltd.
"Both shipyards stood out for their experience, capabilities, and price competitiveness, and we're excited to continue our partnership with these shipyards," said Kirk Jackson, Gulf LNG Tugs' partnership representative.
Gulf LNG Tugs described the 30-80s as "a proven workhorse in Gulf Coast ports", noting its affiliates already operate 10 of the same hull design.
The vessels will meet U.S. Coast Guard Subchapter-M regulations and will be classed through the American Bureau of Shipping (ABS). The main propulsion engines are Caterpillar 3516 E, complying with EPA Tier 4 emission standards, and the tugs will receive ABS low emission vessel notation. Main engines are connected to Schottel SRP 510 FP-Z drives fitted with 2.8-meter propellers. The tugs are fitted with a Markey DEPSF-48-100 HP Electric Class III hawser winch, providing full bollard pull performance Render-Recover feature.
The new tugboats will have an overall length of 98.5 feet, beam of 42.7 feet, and a bollard pull of 80 metric tonnes. Additionally, each tug will be equipped with firefighting capabilities to meet the ABS Fire Fighting Class 1 (FiFi 1) classification.
"We are immensely proud to continue our partnership with Gulf LNG Tugs' owners, and we look forward to delivering the Z-Tech 30-80's to provide years of reliable escort service for RGLNG," said Garrett Rice, president of Master Boat Builders.
"Sterling Shipyard is excited to commence construction of the Z-Tech 30-80s. Gulf LNG Tugs and its owners are premier tug service providers, and we're honored to support their growth," said Harry Murdock, CEO of Sterling.