Gulfmark Must Choose: Size or Specialty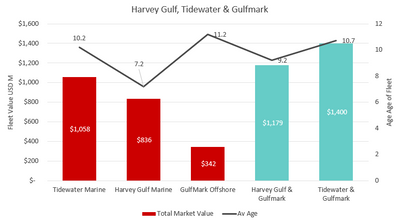 Coming hot off the heels of July's announcement of a merger deal between offshore services firms Tidewater and Gulfmark, rival Harvey Gulf offered its $836 million fleet in a competing deal to merge with Gulfmark.
Now Gulfmark is left to weigh its options.
"With a combined fleet size of 274 vessels, a merger between GulfMark and Tidewater would lead to one of the largest OSV fleets in terms of overall size with an average age 10.7 years old," said Matthew Freeman, VesselsValue Director. "If a merger would materialize between Harvey Gulf and GulfMark, it would mean a smaller overall fleet size of 129 vessels but with an average age of 9.2 years old."
"The Harvey Gulf fleet consists of 57 OSVs and six OCVs (a sector that GulfMark does not currently have a presence in), so the main questions here are size over specialty and what the future holds," Freeman said.
Tidewater, Harvey Gulf and GulfMark Fleets

Owner
Number of Vessels
Average Age
Total Market Value
Tidewater Marine
208
10.2
$1.058 billion
Harvey Gulf Marine
63
7.2
$836 million
GulfMark Offshore
66
11.2
$342 million
Owner
Number of Vessels

Average Age
Total Market Value

Tidewater and GulfMark
274
10.7
$1.4 billion
Harvey Gulf and GulfMark
129
9.2
$1.179 billion