Harvey Gulf Proposes Merger with GulfMark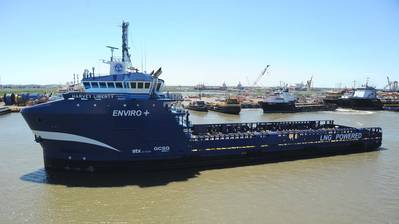 New York listed offshore services provider GulfMark Offshore, Inc. said it is reviewing an unsolicited merger proposal from rival HGIM Corp. (Harvey Gulf), just weeks after entering a definitive agreement to merge with larger rival Tidewater Inc.
Harvey Gulf's nonbinding competing offer submitted August 1 proposes that it be acquired by GulfMark and the combined company remain publicly listed. GulfMark common stockholders would own 41.2 percent and Harvey stockholders would own 58.8 percent of the combined company, which would be led by Harvey Gulf chairman and CEO Shane Guidry.
Harvey Gulf called its proposal a "superior offer" and is urging GulfMark to engage in negotiations. The firm, which emerged from bankruptcy as a private company in July, says its offer would deliver greater value to GulfMark stockholders and that "a combined Harvey and GulfMark would be a superior company to Tidewater following its acquisition of GulfMark due to its robust long-term prospects, in particular, with respect to geographic diversification, superior fleet and significant positive cash flow."
Under GulfMark's July 16 definitive all-stock agreement with Tidewater, the combined $1.25 billion company would be operated under the Tidewater brand and led by Tidewater president and CEO John Rynd.
GulfMark said it is reviewing Harvey Gulf's proposal but currently recommends stockholders uphold the deal with Tidewater. "At this time, the GulfMark Board of Directors continues to believe that the Tidewater merger is in the best interest of GulfMark stockholders and continues to recommend that GulfMark stockholders adopt the Tidewater merger agreement at the special meeting of GulfMark stockholders to be scheduled for this fall."