Hamburg Süd History is Museum Bound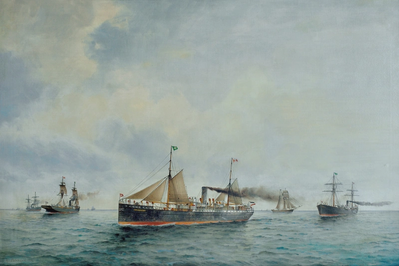 Hamburg Süd and the International Maritime Museum Hamburg (IMMH) have signed an agreement to catalog and display the historical collection of the shipping company, which was founded in 1871.
Using images, ship models, documents and other artefacts from Hamburg Süd's archive, the project aims to make the history of Hamburg Süd accessible to the general public in the form of a permanent exhibition. There are also plans to organize a special exhibition for 2021 to mark the company's 150th anniversary. In addition, the comprehensive historical collection will be permanently available for research purposes at the International Maritime Museum, one of the leading museums in the maritime sector.
The financing needed for several years of preparatory work as well as the exhibitions has been secured thanks to a major donation from the Oetker family, which owned Hamburg Süd for more than eight decades. In 2017, the family sold the shipping company to its current owner, Maersk, the world's largest liner shipping company, which is based in Copenhagen. Maersk, too, is providing support to the collaboration.
Plans call for the International Maritime Museum to design an exhibition that will vividly depict the history of Hamburg Süd since its foundation during the years of emigration from Europe to North and South America in the second half of the 19th century, through the turbulent decades between the First World War, the global economic crisis, the Second World War and the post-war era, to general cargo shipping and, lastly, to the age of containerization. Hamburg Süd's development over these one and a half centuries will serve as an example of what several liner shipping companies from that period also went through. For example, the fates of several thousand people who emigrated in the early years are closely tied with the name Hamburg Süd, and to this day, many of their descendants – mostly from South America – still send inquiries to the company's office in Hamburg regarding passenger lists. Hamburg Süd's founders also saw the importance of setting up a reliable liner shipping connection for the safe transport of their commercial goods to and from South America. At that time, the luxury liners of the large shipping companies were the only way to travel from continent to continent. In fact, it wasn't until the introduction of passenger aviation that shipping companies shifted their focus more and more on transporting goods of all kinds.
Hamburg Süd is famous in this sector for the high quality of its transports of foodstuffs, such as southern fruits, coffee and high-quality meat. Today, the company numbers among the leaders not only in markets such as Brazil, Argentina, Chile and Colombia, but also in those of Australia and New Zealand. The goods are transported from these locations to Europe, Asia and North America, for the most part in the traditional North–South trade lanes.